Today felt like spring had really arrived. After nearly two weeks of being stuck indoors because of illness, I desperately needed to get out and about, and the sunshine and clear skies could no longer be ignored.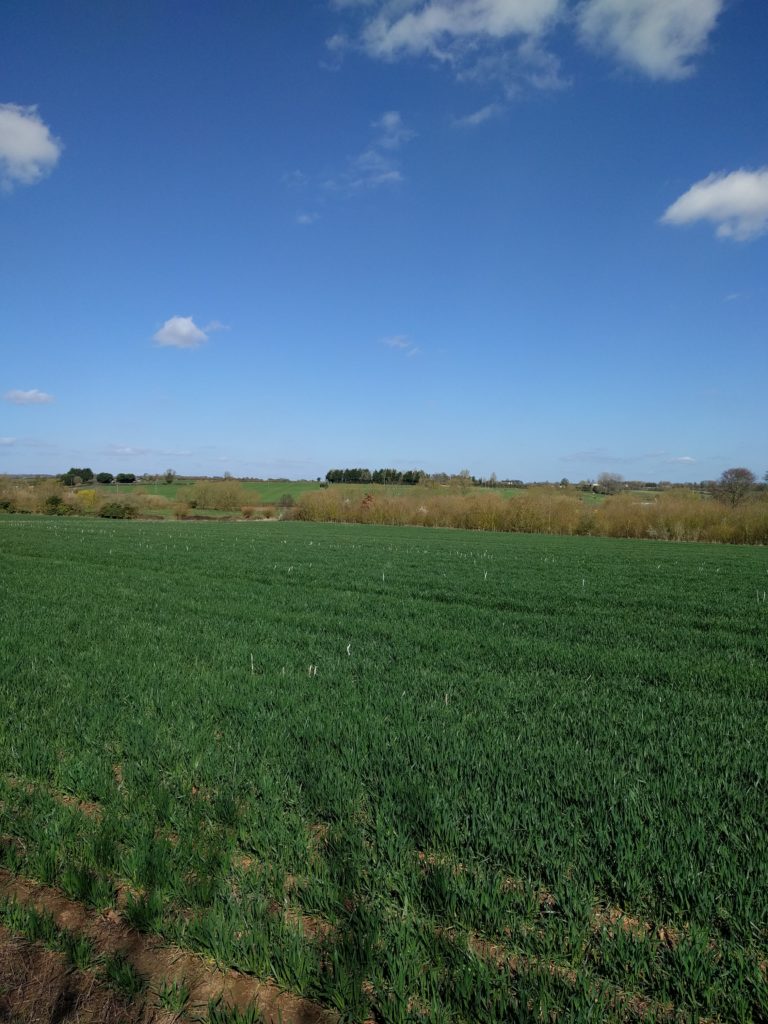 So, husband and I decided to head off over the fields towards a small hamlet a couple of miles away. There was the promise of a drink at one of our favourite pubs before making the return journey. What could possibly go wrong?
We set out up the hill and across the busy road towards the public footpath. This winds its way across the fields and above the valley where the river runs its course. The weather remained glorious and, apart from the occasional dog walker and keen cross-country runner, we were pretty much the only people walking there. Tangled hedges line part of the footpath and I could hear all sorts of birds calling out; alas, I am not great on birdsong, so I haven't a clue what they were. High above us, two red kites swooped and whirled – now those are birds whose call I can recognise.
Part of the way was a bit muddy, but I have been along this path when it is in a much worse state. I was wearing my boots, so the mud didn't really matter. Walking here always puts me in mind of Elizabeth Bennet and her trek three miles across country to Netherfield to see her sister Jane.
'How can you be so silly,' cried her mother, 'as to think of such a thing, in all this dirt! You will not be fit to be seen when you get there.'
For all her silliness, I think Mrs Bennet had a point. In a long dress, 'jumping over stiles' and avoiding puddles, I think Elizabeth would have been caked in mud, although Austen only describes her as arriving 'with weary ankles, dirty stockings, and a face glowing with the warmth of exercise.' A bit of artistic licence, I think.
Darcy also ignores her muddy condition, admiring only 'the brilliancy which exercise had given to her complexion'. Obviously, he was in the first throes of love… my husband complains if I come home mud be-spattered, the shine of first love having worn off quite some time ago!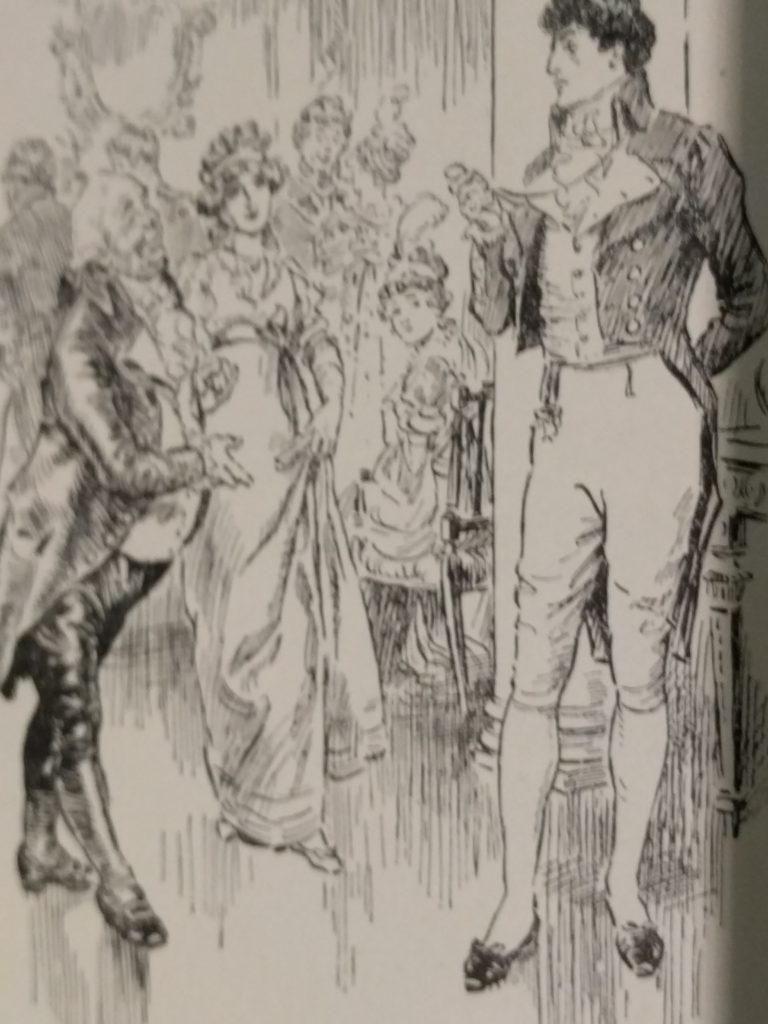 Anyway, back to my own walk. As you can see, there are some beautiful parts of the footpath. I love the way the trees join overhead in this photo, giving the impression that it is leading on to something magical.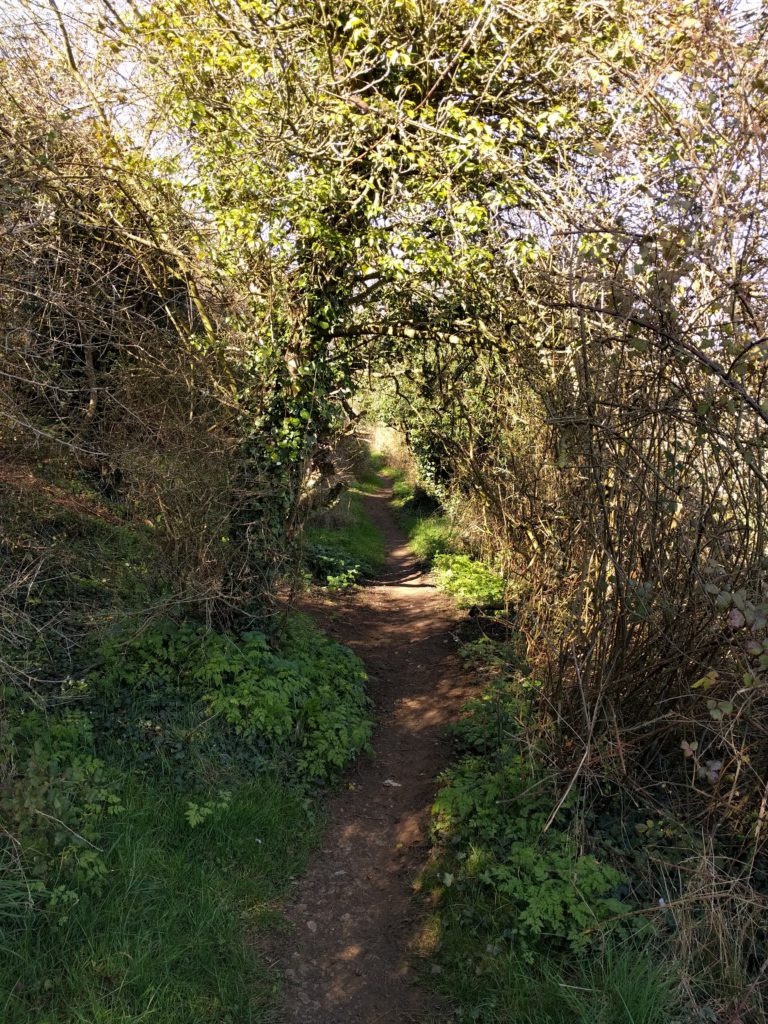 Coming out of the woodland, we joined a road that, by way of a narrow bridge, crosses the river. The water was clear and ducks were paddling away — we even spotted some tiny fishes in the crystal-clear stream that runs alongside the footpath.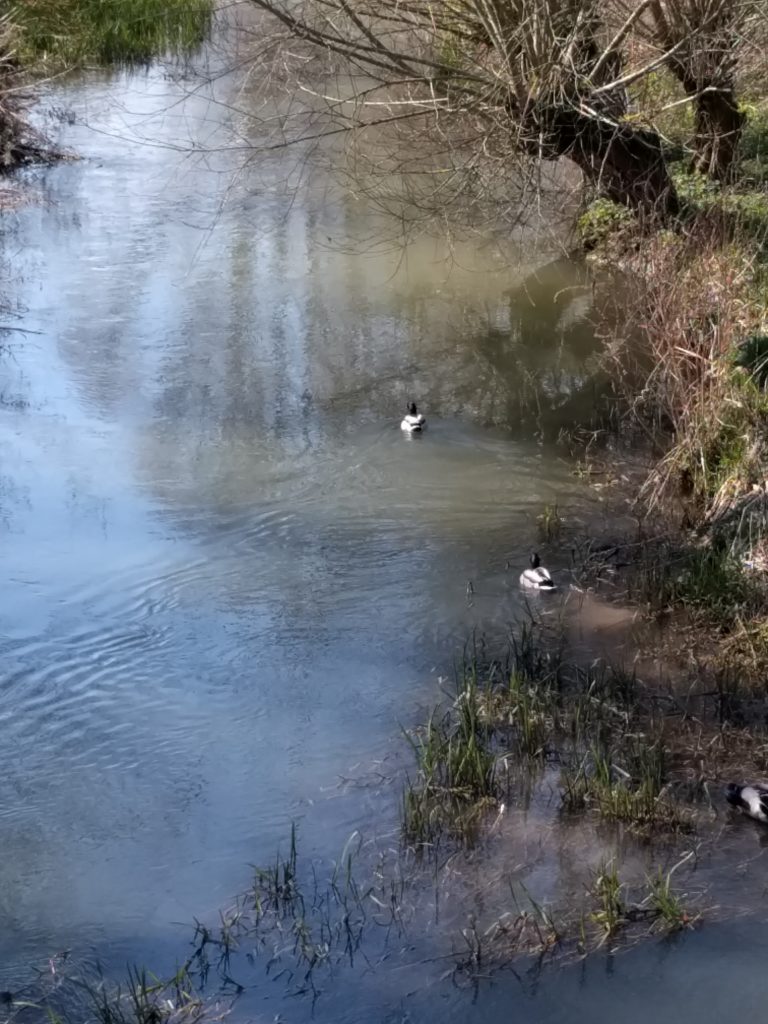 Over in the distance, I spotted my first lambs of the year, leaping about in that typical way lambs do.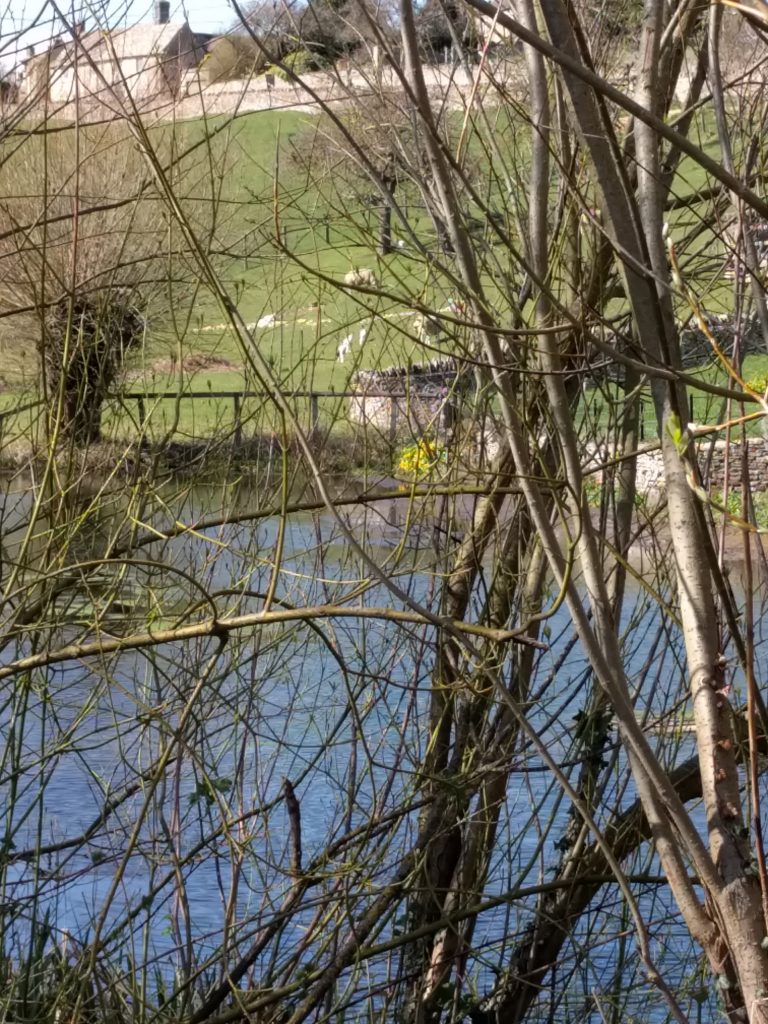 By this time, husband and I were eagerly anticipating our drink, the pub was not far now. Entering the hamlet, we turned the corner and walked through the pub car park — apart from a couple of cars, it was strangely quiet. Undaunted, we carried on… the pub door was open… there were lights on inside. But then… disaster! We crossed the threshold to be greeted by two gentlemen in work clothes who told us it was closed — tired and hot, you can imagine how disappointed we were! Hopefully it will be open next week, if we venture that way again.
The good news is that we did manage to get a drink – a half for me and a pint for the husband – at a pub a bit further up the road, and we were able to do the return journey suitably refreshed.
I hope you enjoyed your Sunday afternoon as much as I did. See you soon!