Last week saw another of my whistle-stop trips. It's amazing what you can pack in when you have limited time.
Husband and I visited Bridgnorth, Shropshire, a small market town in the Severn Valley, bisected by the River Severn. It was very much a short visit, we spent even less time there than we did in Worcester the previous week.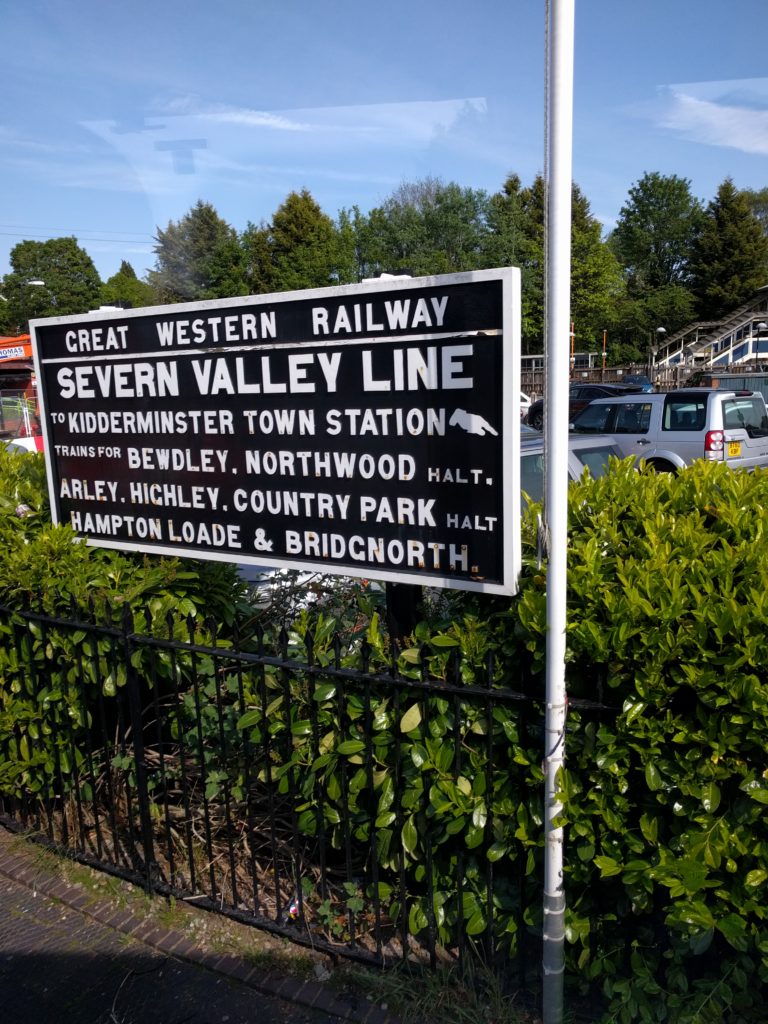 The main element of our day was the actual journey, partly by road to Kidderminster, then on to Bridgnorth via the Severn Valley Railway. Now I love travelling on trains, not that I get much opportunity these days — my last foray abroad some time ago was by train to Rome — yes, all the way from London by train. It was fantastic! There is definitely something romantic and adventurous about sweeping through the landscape, especially at night, when you're tucked up in your sleeping car and watching the scenery glide by.
Sooo… when I had the chance of another rail trip, albeit only a short one, I was up for it. Even more enticing was the fact that part of the trip would be steam-hauled, as this particular trip was on a Heritage railway line.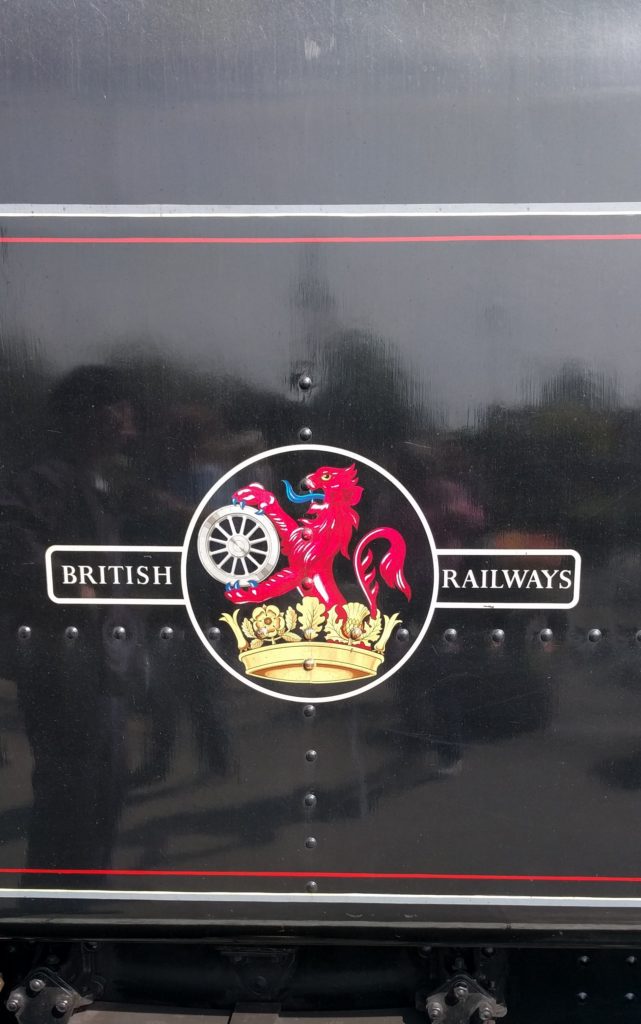 The Severn Valley Railway is a full-size standard-gauge railway line, approximately sixteen miles in length, running between Kidderminster, Worcestershire, and Bridgnorth, Shropshire. Completed in 1862 and extending then for forty miles, the line was closed to passengers in 1963 as part of the national rail rationalisation programme (thank you, Dr Beeching).
But in 1965, a group of local enthusiasts got together and formed the Severn Valley Railway Society. They bought a stretch of track back from British Rail, and from there, despite several setbacks over the years, the line developed into what it is today.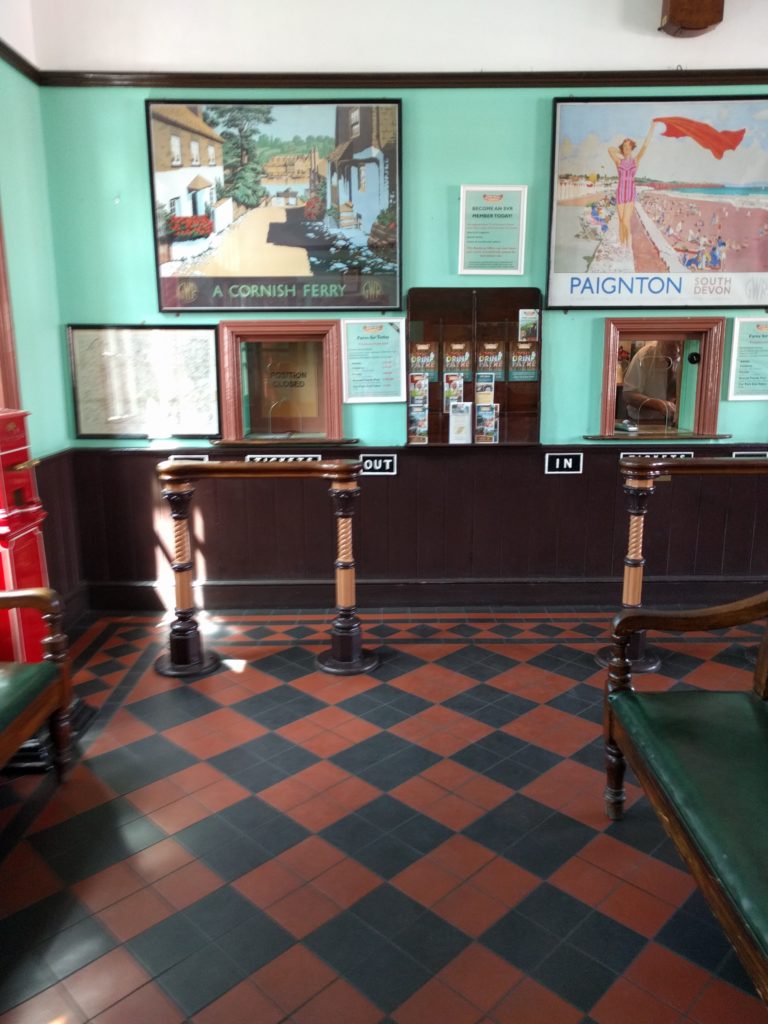 So we arrived in Kidderminster and our adventure began. We passed through the quaint station waiting-room, which is not contemporary with the rest of the line, but is in fact a recent construction, being a replica of the station that once stood in Ross-on-Wye.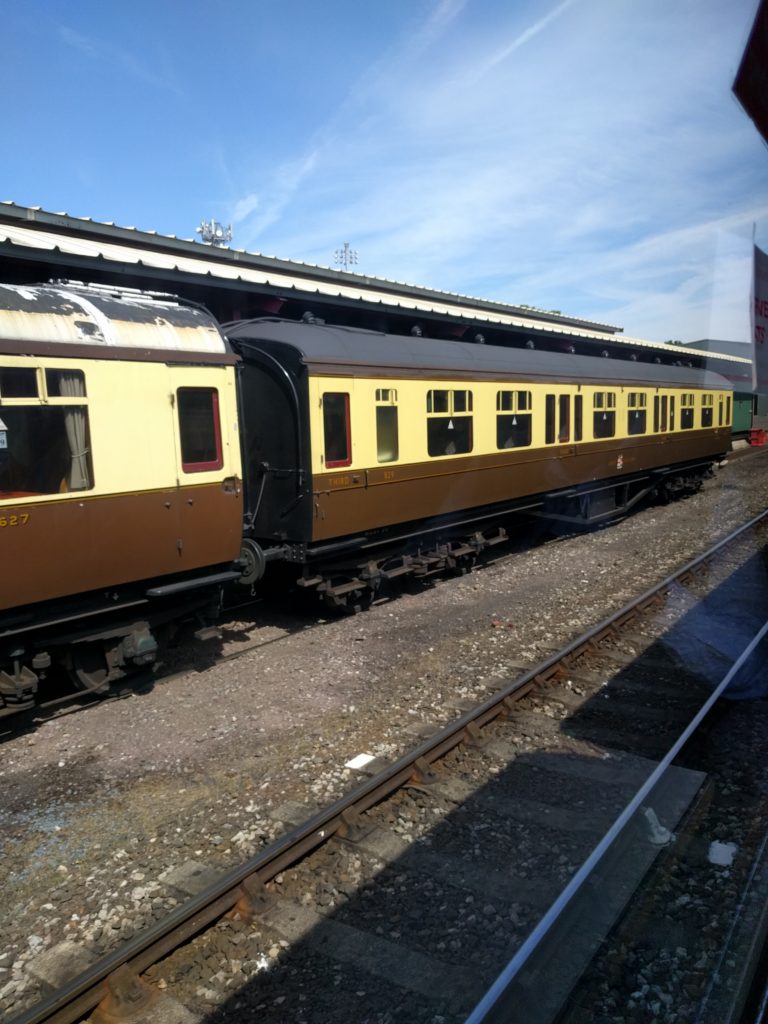 For the outward journey, our train was pulled by a diesel engine, but our carriage was a far cry from today's modern equivalents. Sitting in opulent, deep-cushioned upholstered seats, surrounded by polished wooden panelling, and watching glorious English countryside roll by, was definitely travelling in style!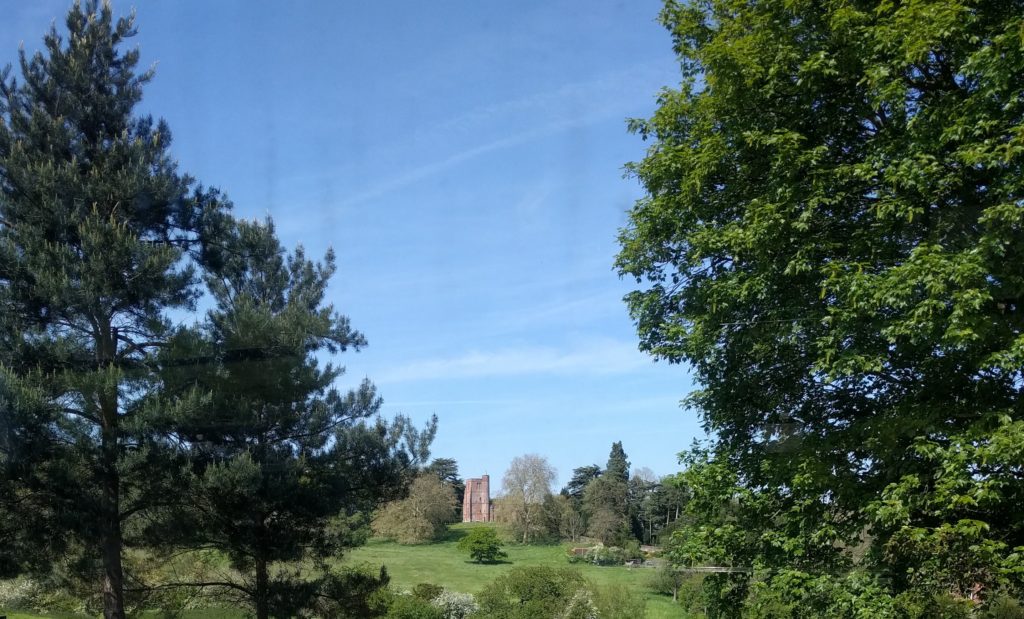 My equilibrium was a bit dented when I heard my husband declare that he could see a rhinoceros. No, he'd not been drinking — we were passing the West Midland Safari Park.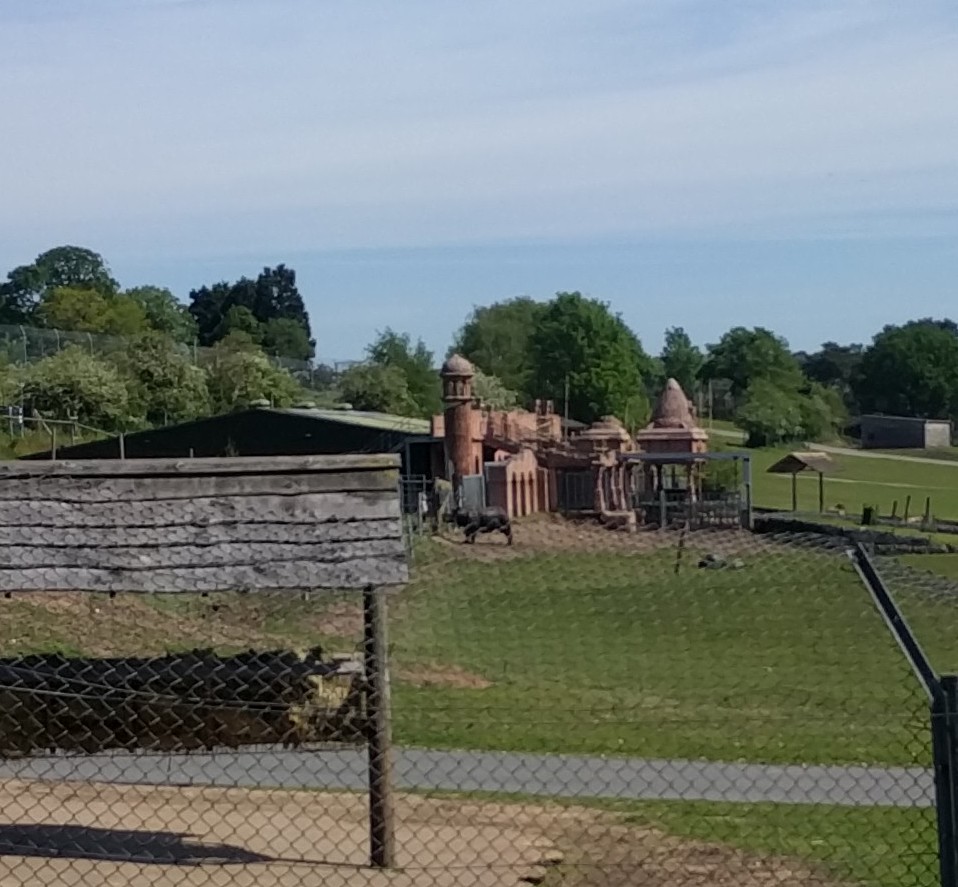 I grabbed my phone and managed to get this shot of the rhino, and also one the elephants.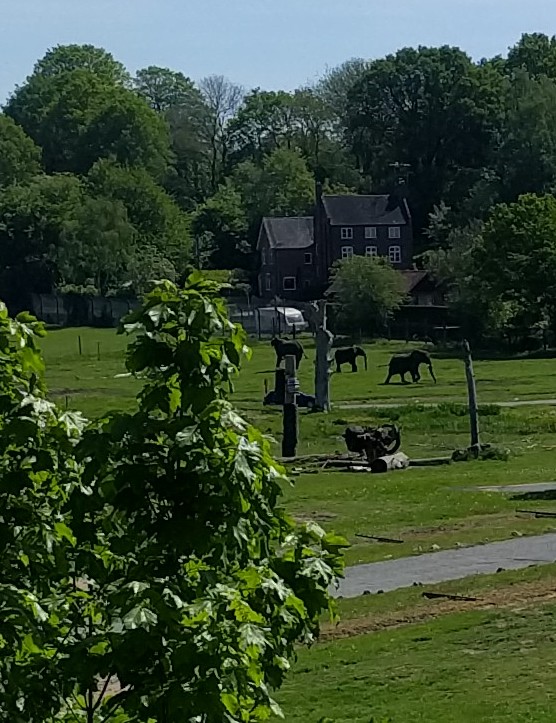 Further along this rural line we passed more animals, although these were the more domesticated varieties of sheep, cows, and horses.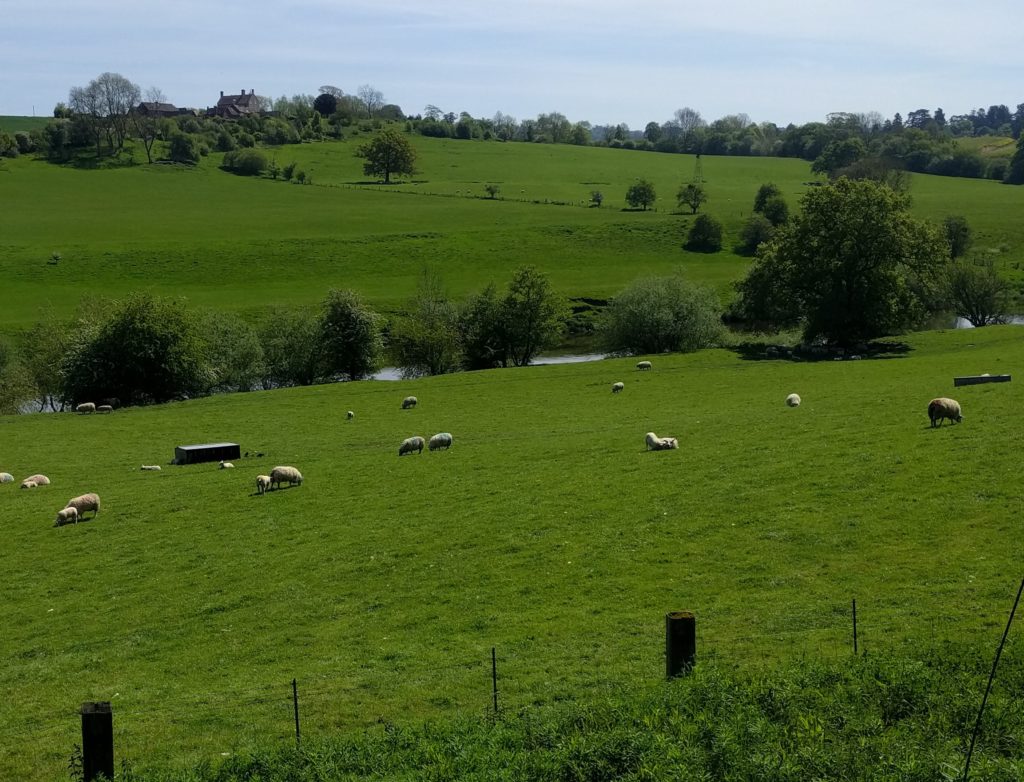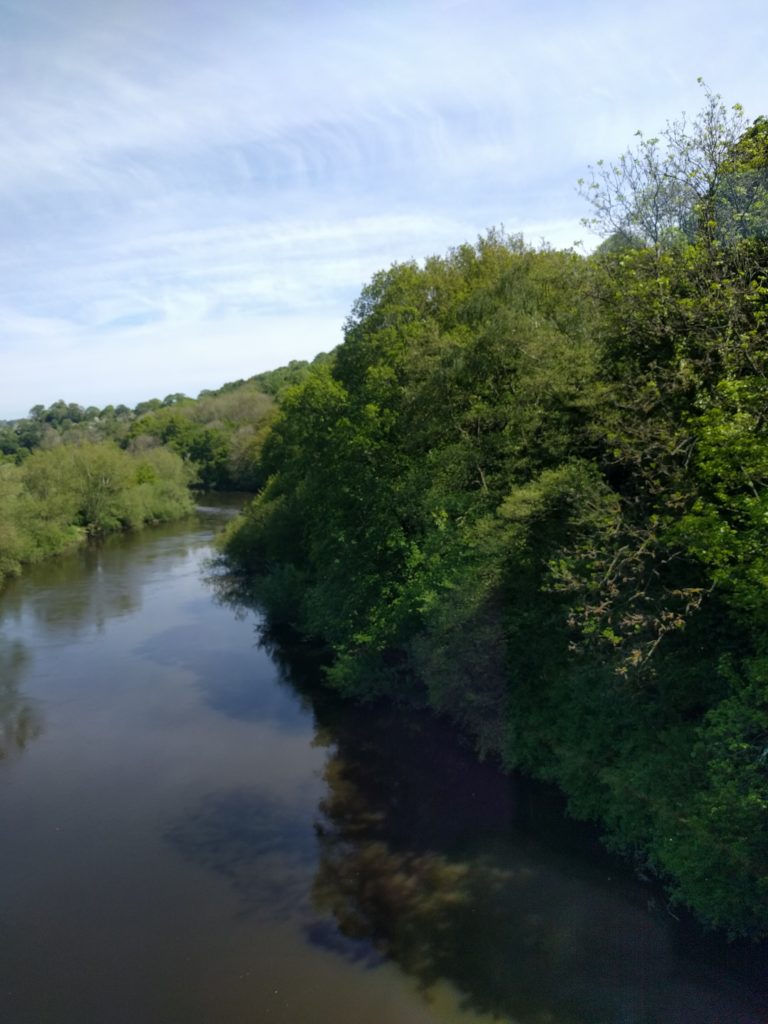 The line follows and crosses the River Severn — for anyone wanting to see some typical English countryside, this is the trip for you.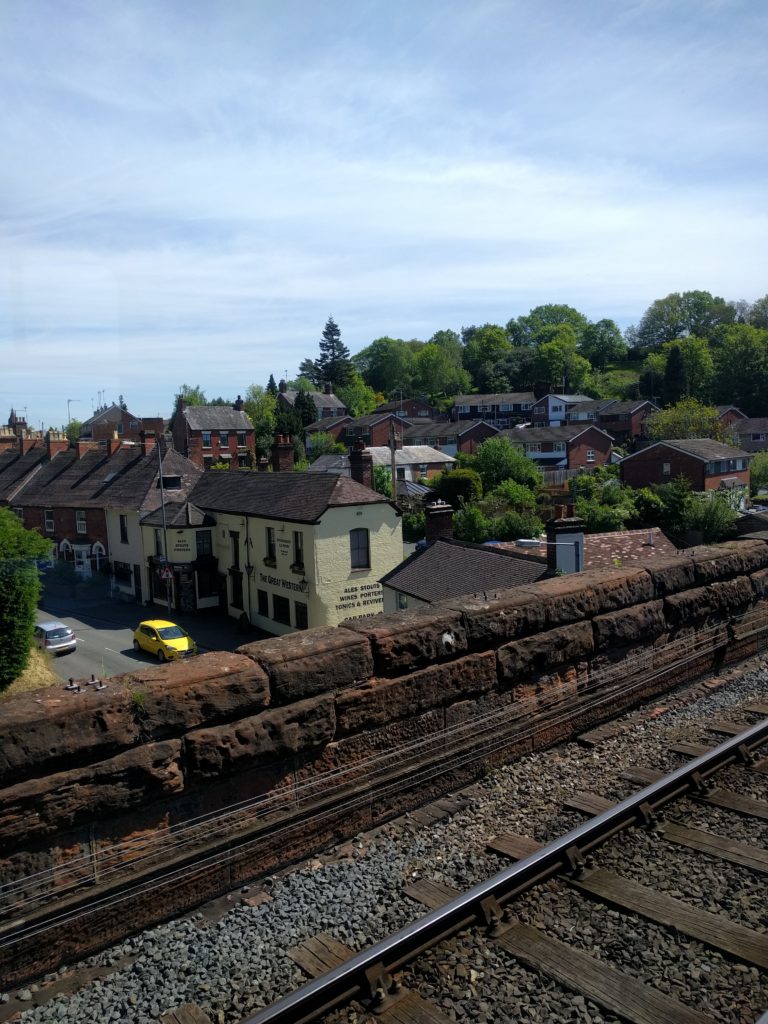 The train wends its way through Bewdley, Arley, Highley, and Hampton Loade, before the final stop at Bridgnorth; it was nice to see the small touches made at these stations to add to the feel of returning to a bygone age — the vintage luggage stacked on trollies, the posters advertising products long-gone, the station staff dressed in period costume.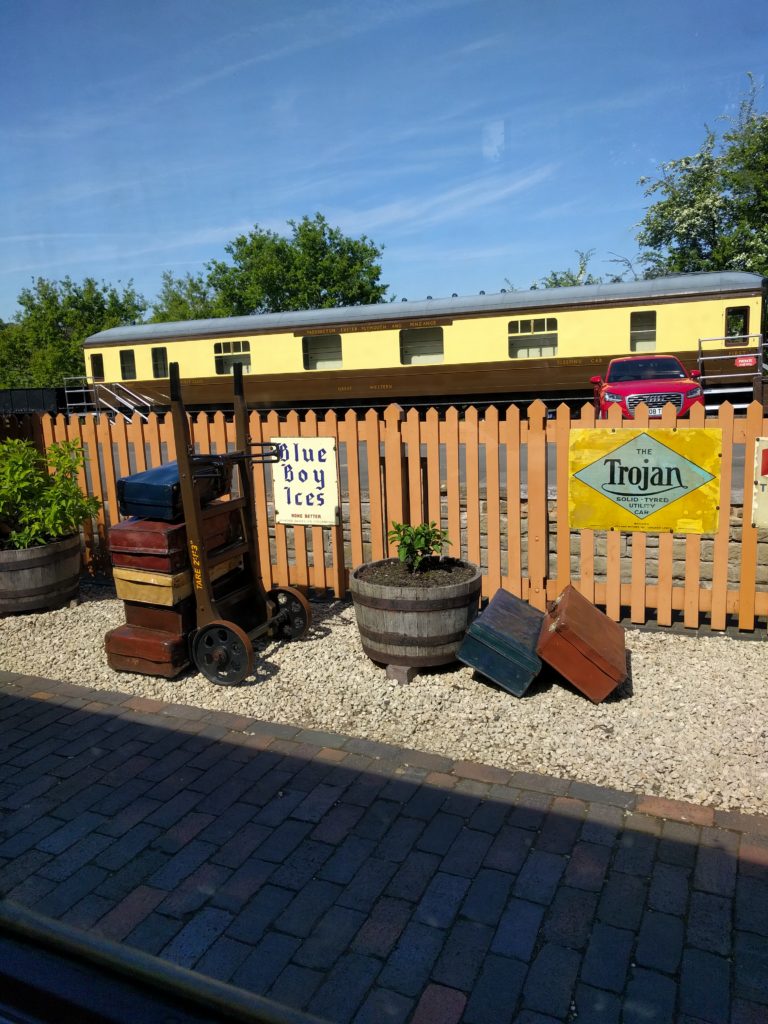 It was a bit like stepping into a railway scene from Brief Encounter. It's also worth mentioning that the majority of staff at the stations and on the trains themselves are volunteers, all passionate about recreating a period in time when things and people moved at a more leisurely pace.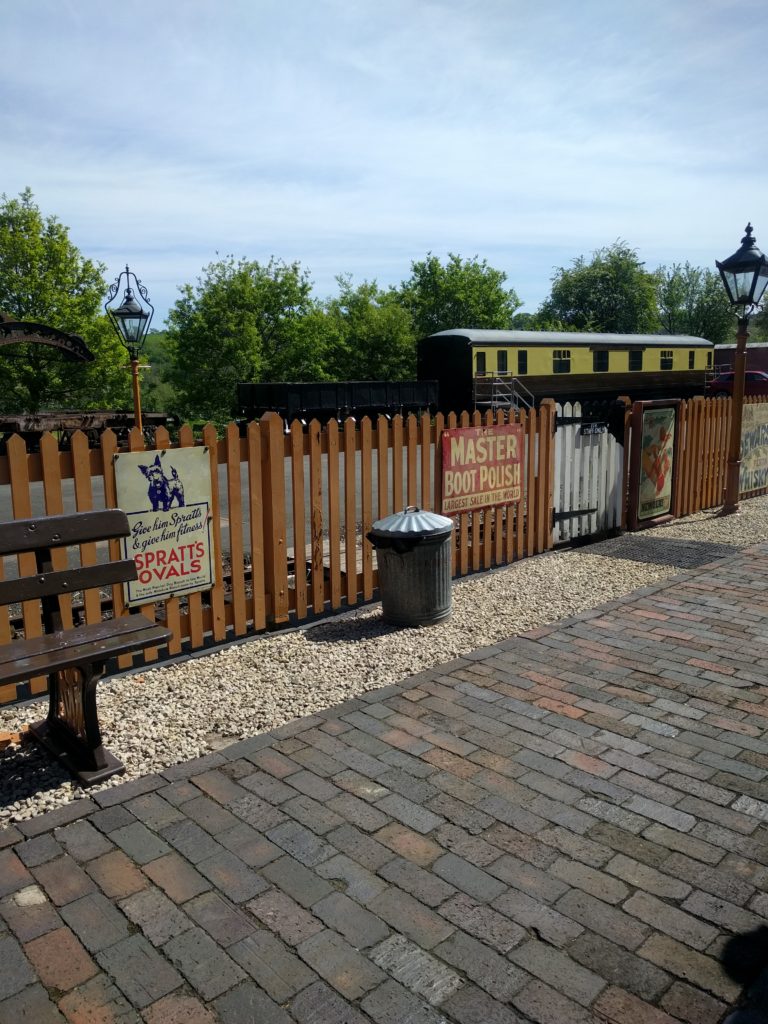 All too soon, the train pulled into Bridgnorth Station and we had to disembark. If you are looking for a quintessential market town with historical connections, then you have found it with Bridgnorth. Beautiful old buildings abound, starting with the ruins of the castle, which parliamentarians during the Civil War didn't quite manage to destroy. During the Civil War Bridgnorth was one of the Midlands' main Royalist strongholds, with many soldiers garrisoned here. In 1646 the Roundheads arrived and after a three week siege the town was taken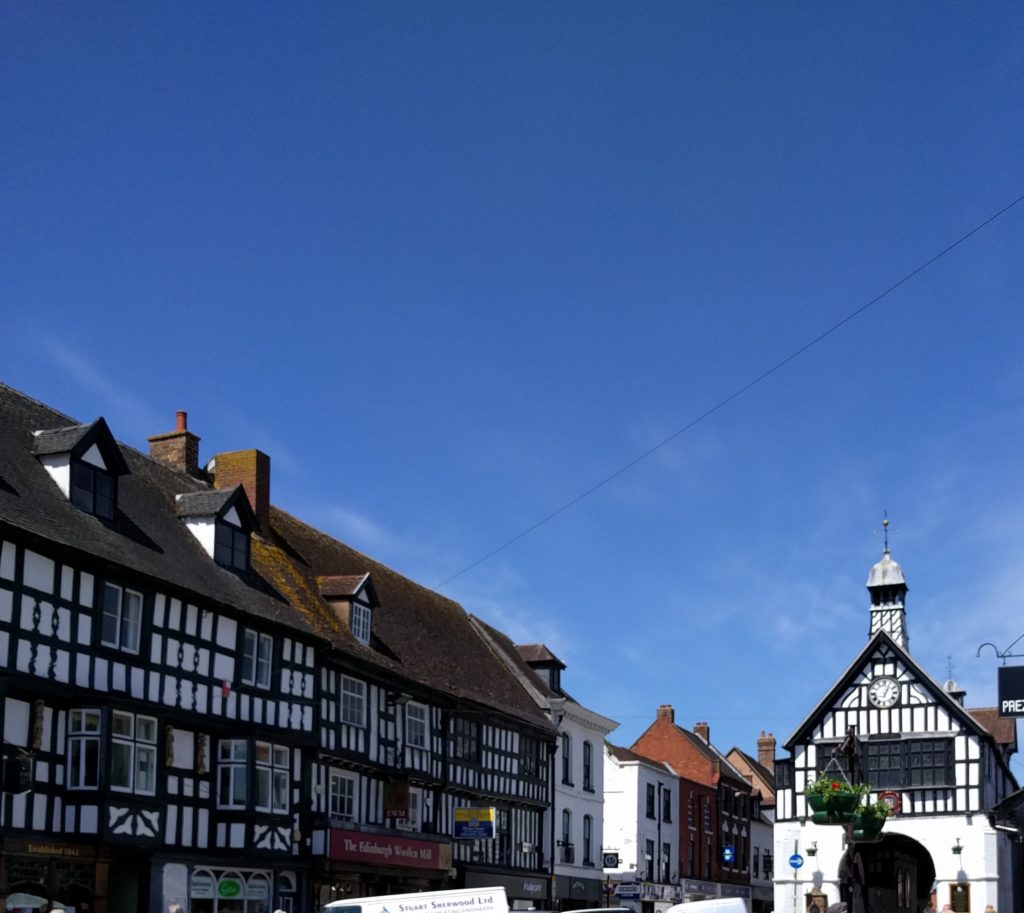 As time was short, we decided to forgo the pleasure of taking the funicular railway which connects the Low Town to the High Town, and walked up the steep footpath from the station instead.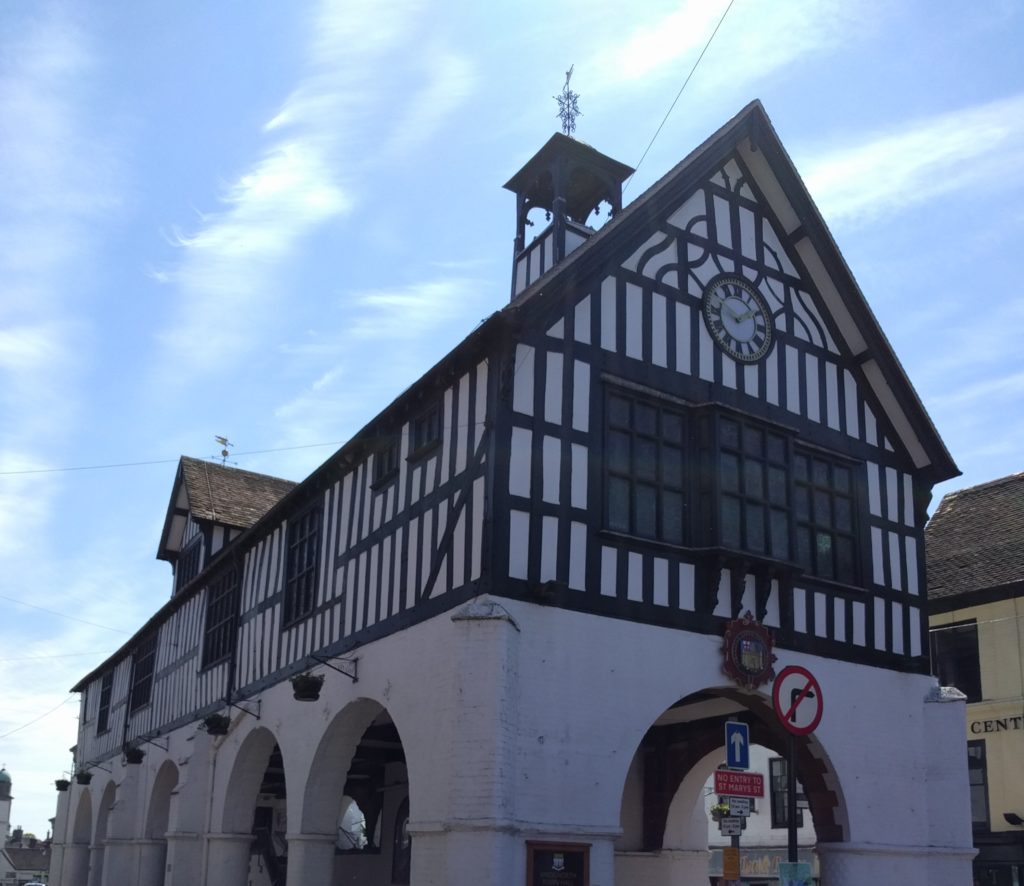 The High Street is a broad, pleasant thoroughfare, in the centre of which stands the half-timbered Town Hall. Built in 1650, this is still used today, the upper floor housing a museum, while the arches below are the location of the twice weekly Charter Market.
Baptist Church

A variety of house styles
Down almost every street we discovered examples of buildings from a variety of periods, Tudor, Georgian, Victorian. Our lunch was taken in the converted stables of an old coaching inn — you can see the original exposed roof beams in my photo. I imagine that the first floor, where we ate, originally housed the sleeping quarters for the stable boys.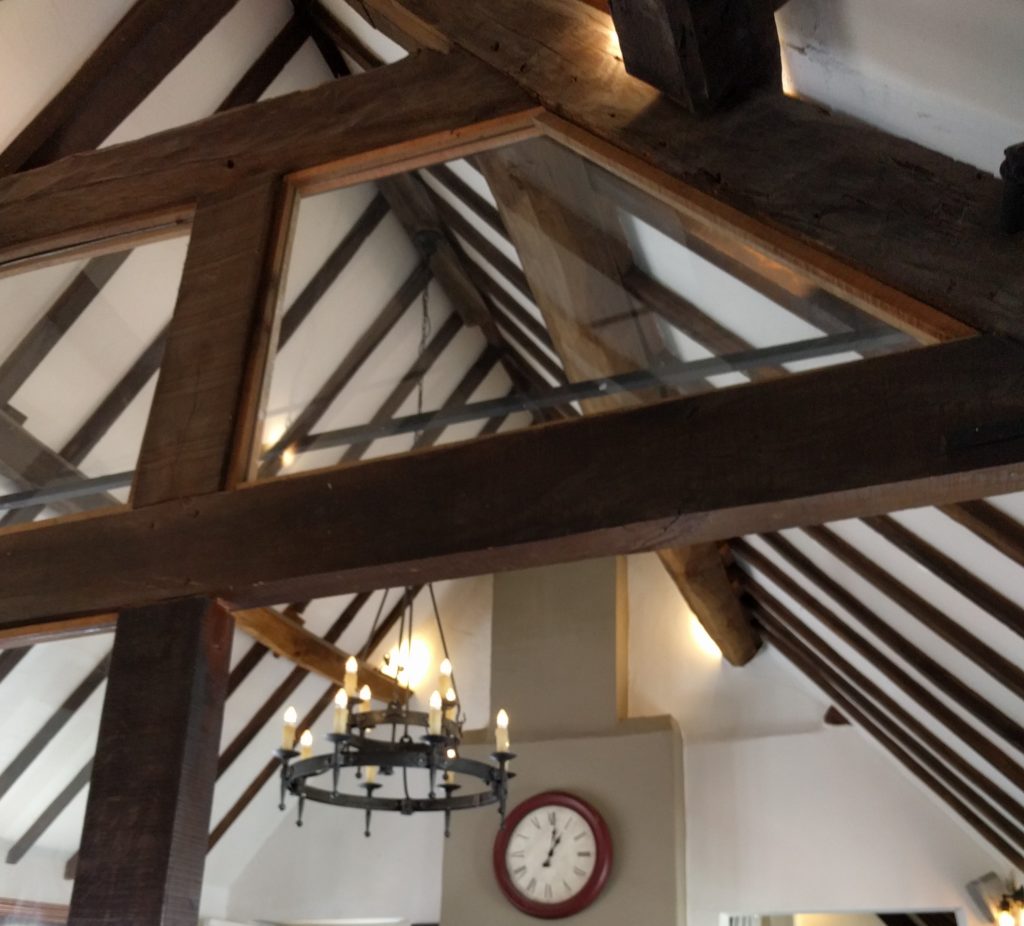 Lunch over, we headed off for a brief exploration and discovered one of Bridgnorth's two main churches. St Leonard's is a Grade II listed church, no longer used for worship.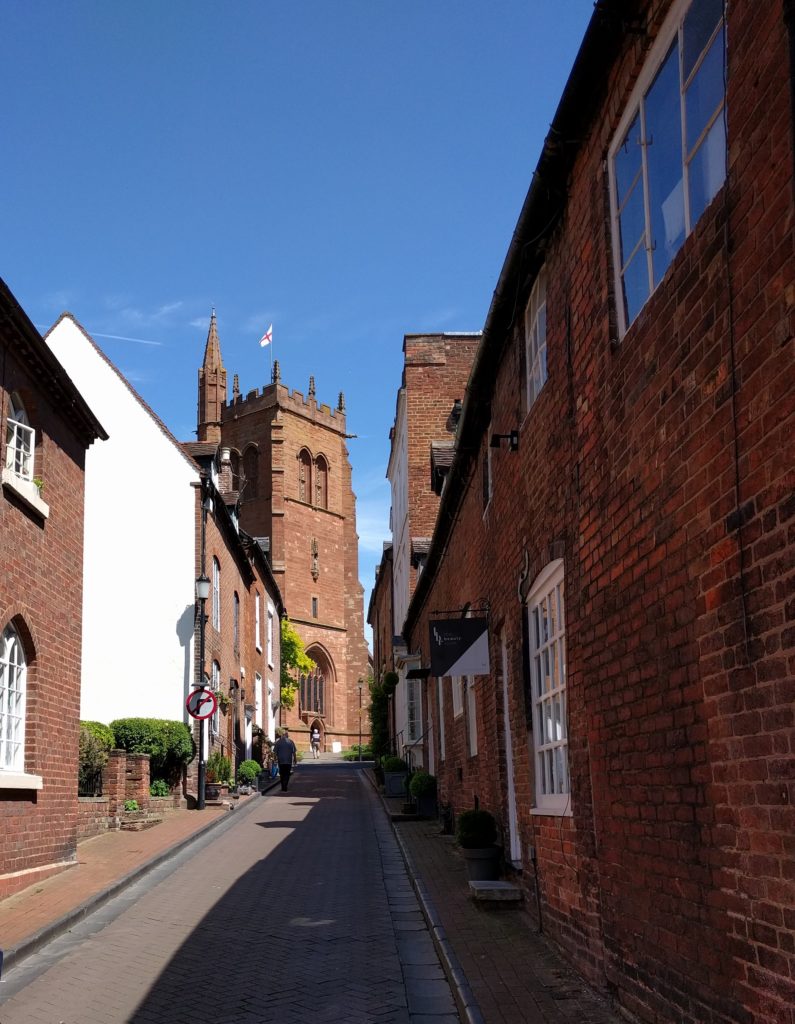 It is set in a beautiful square, surrounded by picturesque houses; inside, it is equally as impressive, with a fabulous hammerbeam roof, typical of English Gothic architecture.
Tree on the green

Houses near St Leonard's
Hammerbeam roofs were developed by medieval carpenters as a solution to the problem of spanning wide spaces, which they did by cantilevering the upper timbers from a beam projecting from the wall.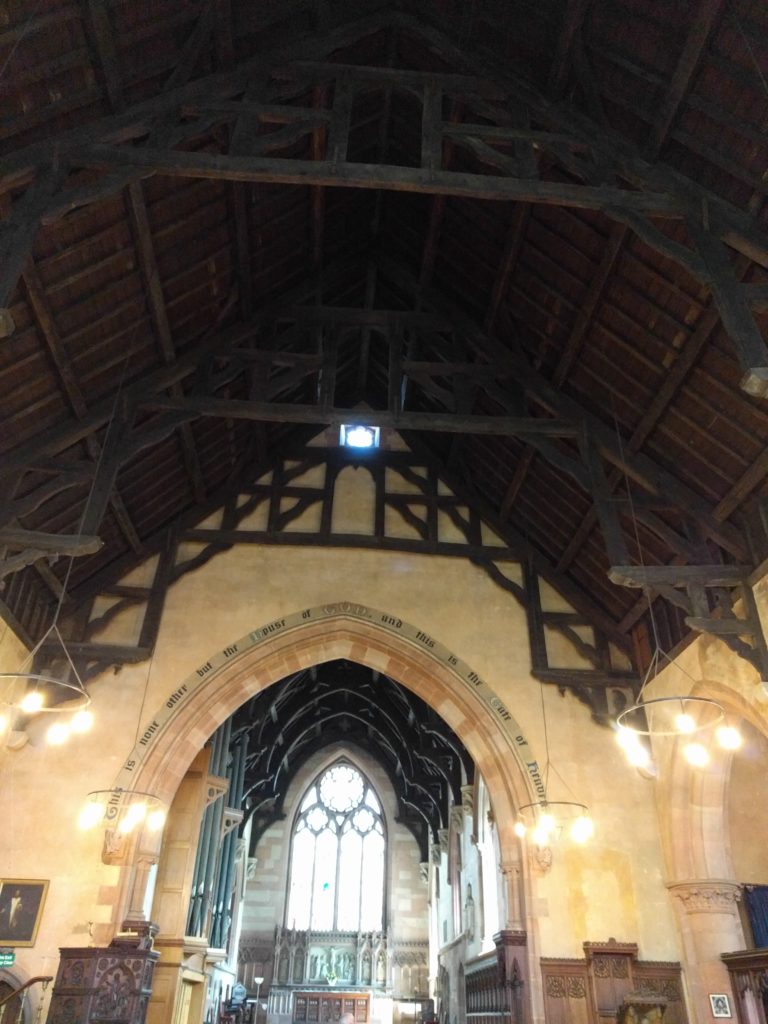 Unfortunately, there wasn't time to linger, as the train back to Kidderminster would be leaving shortly. A hasty return down the High Street, a few snatched photos along the way, and it was back to the station. This time, the train for our return journey was being pulled by a gleaming, vintage steam engine, which really added to the feel of authenticity.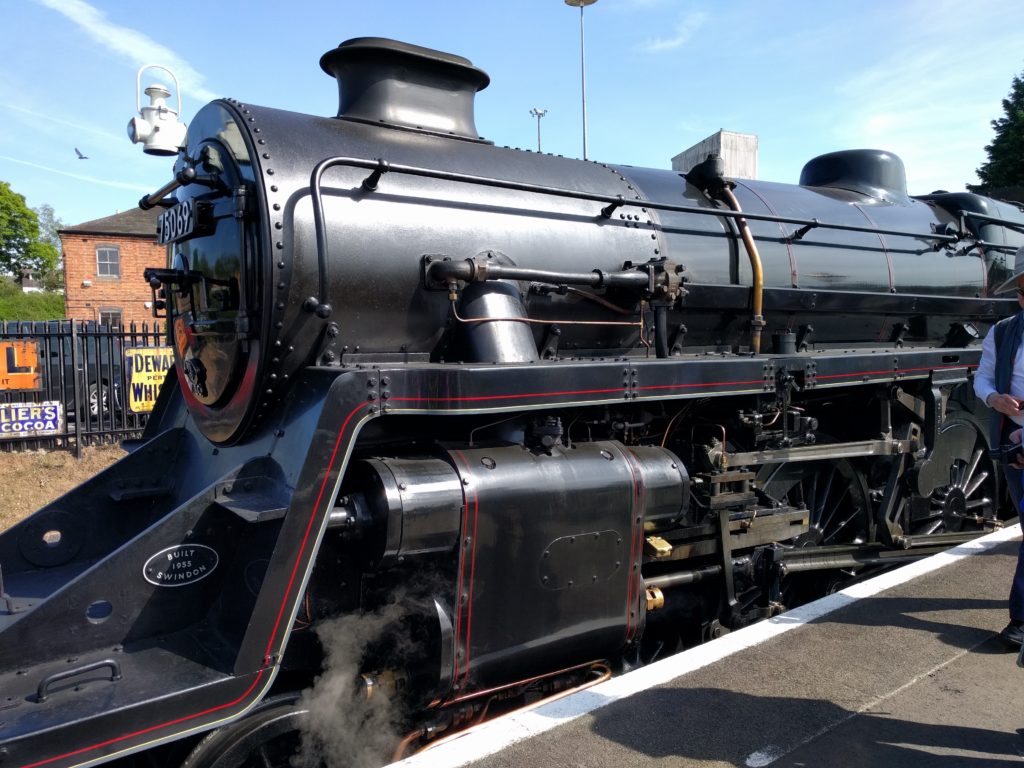 All too soon, our journey was over. It was a long day, but husband and I agreed that it had been worth the effort. Bridgnorth is not far from Worcester, which I visited recently (see my post), and also Ironbridge, another historical Shropshire town and the birthplace of the industrial revolution; a longer trip combining all three towns would make a nice break for anyone interested in history.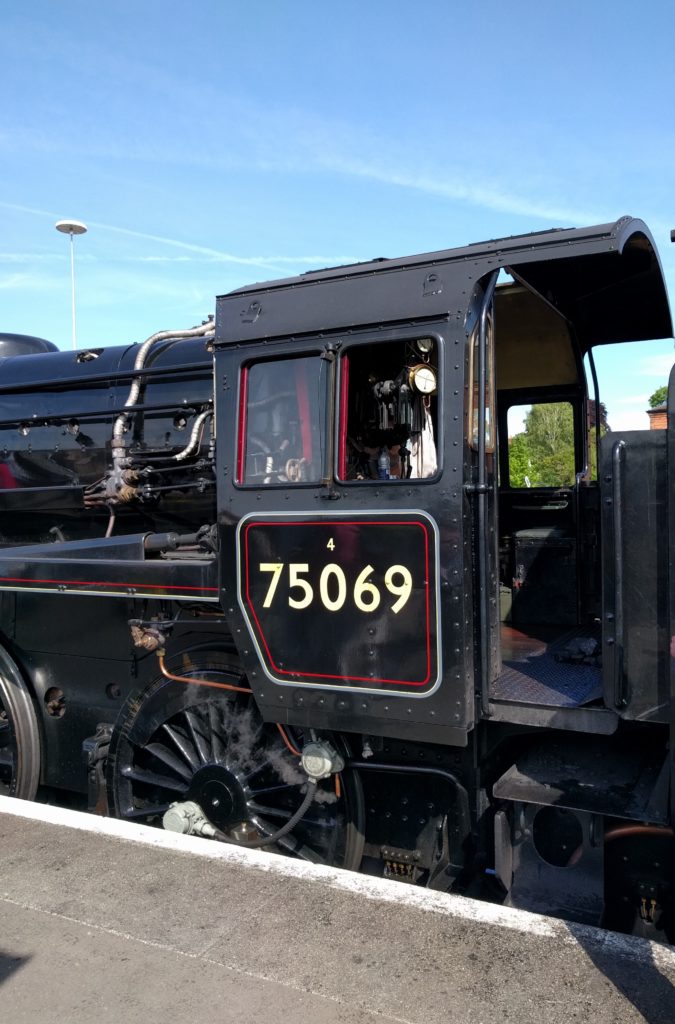 If you know of any other places that ought not to be missed in Shropshire or Worcestershire, do let me know.