My spooky mystery novel, The Unquiet Spirit is available to download free this weekend (October 17-18).
So if you enjoy cosy mysteries, with a hint of danger and a sprinkle of romance (there might even be a ghost or two!) why not take a chance and download it today?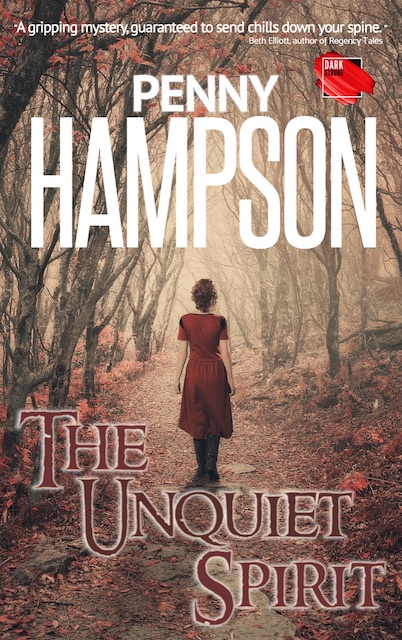 Here are some of the nice things being said about it:
'An intriguing combination of mystery, ghost story and even a murder thrown in for free. It doesn't stop there though because Hampson also adds a note of romance to the mixture.' Cheryl M-M's Book Blog
'A story that has suspense, mystery, the paranormal and also some romance all woven intricately together to create an atmospheric and at times haunting read. Beyond the Books
' I loved this book. It was a brilliant read that had me hooked from page 1.' Goodreads review
'A brilliant story with romance, mystery and a dash of paranormal.' Inishowen Cailin
'A Cornish set tale that sparkles with intrigue, suspense, romance and ghostly goings-on.' Bookish Jottings
A Tale of New Beginnings, Friendship…and Phantoms
Can a spirit from the past help Kate uncover a long-forgotten mystery?
Kate Wilson thinks moving back to Cornwall might be the answer to her prayers. But once in Falmouth, Kate's hopes for a peaceful existence fade with the appearance of new friends, a boisterous, inquisitive dog, and things that go bump in the night. Yes, the house she inherited might be haunted – either that, or she's going mad.
Then there's her enigmatic neighbour, the brooding Tom Carbis; a man with secrets he doesn't wish to share. Despite their strong mutual attraction, Kate's not sure she can trust him completely.
The discovery of a hidden journal and a charismatic portrait point Kate to a romantic mystery from the past – a mystery with connections to Tom's family. It becomes Kate's quest to uncover the fates of the lovers – a task that leads her into life-threatening danger.
Will Kate be able to escape unscathed? Or will history repeat itself?
Set in beautiful Cornwall, The Unquiet Spirit is a heart-warming ghostly tale, sparkling with suspense, humour, and romance. Fans of Barbara Erskine, Nicola May, and Kate Forster will enjoy it.
Treat yourself and download The Unquiet Spirit today!
If you enjoy it, please consider leaving a review, as it will help other readers to discover it. Thank you.