I've recently enjoyed re-reading another of Georgette Heyer's Regency novels, Black Sheep. It tells the story of Abigail (Abby) Wendover, a genteel, single lady of twenty-eight years, who lives with her considerably older sister, the invalidish Selina. Also living with the sisters is their orphan niece Fanny, a wealthy heiress, whose unwise infatuation with a fortune hunting bounder, Stacy Calverleigh, sets the whole story in motion.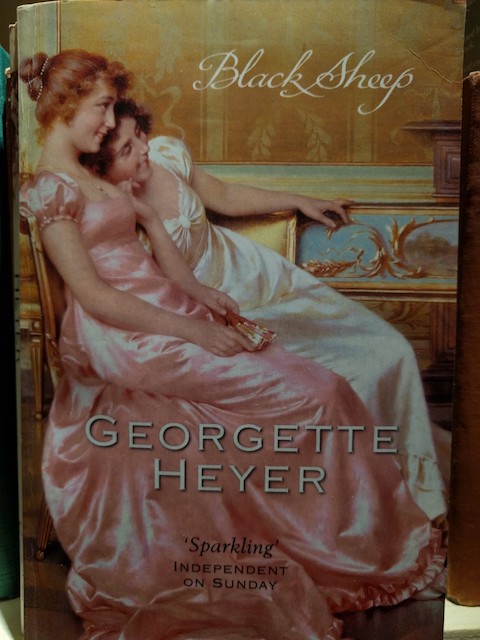 James Wendover, Abby's older, straight-laced brother and head of the family, warns his two sisters that he will remove Fanny from their care if they do not nip Fanny's relationship with Calverleigh in the bud. Abby, a bit of a family rebel herself in her youth, knows that she will have to be subtle in order to disengage her young relative's affections from her would-be swain, as she sees in Fanny the same rebellious streak.
Setting out to warn the fortune-hunter off her niece, Abby encounters his uncle, Miles Calverleigh instead. Miles, the black sheep of the Calverleigh family, is recently returned from a long exile in India where he'd been sent by his relatives after a particularly scandalous episode in his youth.
Miles is not your typical Heyer hero. He is not good-looking, he ignores convention, and he speaks his mind. Yet, when he candidly tells Abby that he cares nothing for Stacy and his nefarious plans, and that there is nothing he can do to help, Abby is still somehow attracted to him – for Miles makes her laugh and she responds to his carefree attitude to the strictures of society. And of course, we learn pretty soon that Miles is not the cold-hearted reprobate that society has painted him. A rebel herself at heart, Abby is pulled more and more towards the straight-speaking Miles.
In other ways, Black Sheep differs from Heyer's usual stories, in that Miles' feelings towards Abby are made clear from the start, certainly to the reader if not to Abby herself. Abby tries to rationalise the attraction she feels towards Miles as mere friendship.
Set in Bath, the vivid descriptions of the streets, shops, and institutions that Heyer weaves into her plot made the story come alive for me. The title too is very apt, as Miles and Abby are the black sheep of their respective families, both being considered unconventional and almost scandalous in their behaviour.

Like all of Heyer's stories, the dialogue is witty and the characters engaging; even Stacy is not painted as an out-and-out villain, and Heyer comes up with an amusing and unexpected comeuppance for him. The period detail is perfect, as you would expect.
I won't give away any spoilers, but rest assured that Miles' solutions to Abby's problems are imaginatively and charmingly solved, and the final scene definitely is up there as one of my favourites.
If you're looking for some lighthearted escapism, I thoroughly recommend Black Sheep — Heyer at her best.