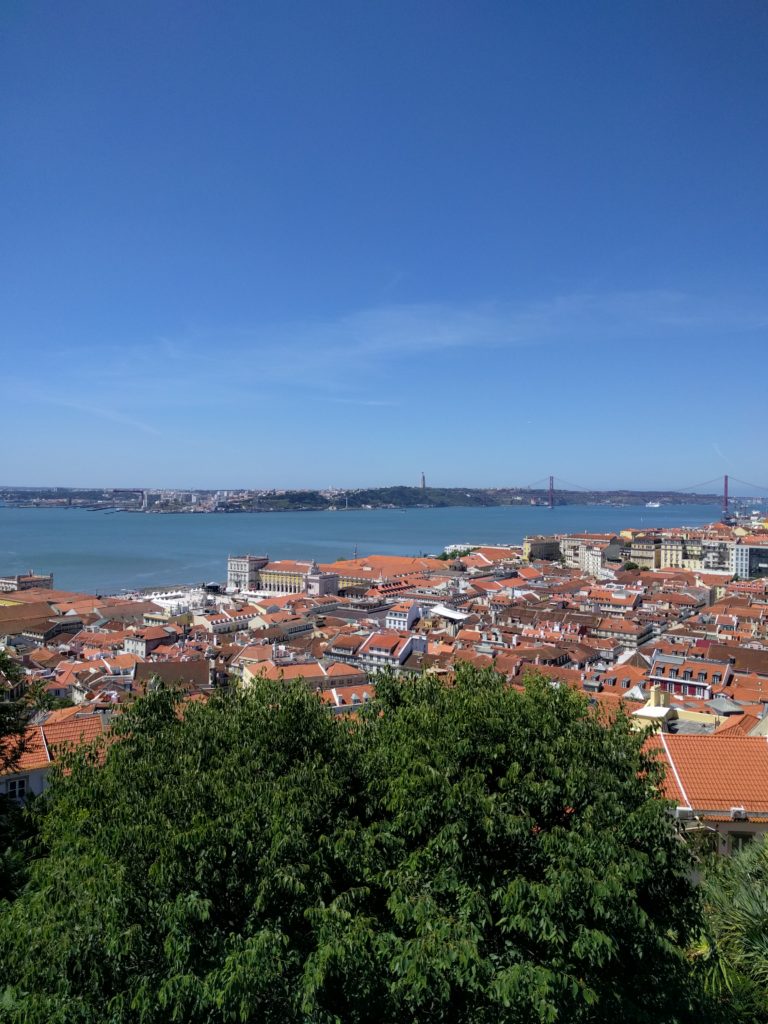 I thought I'd share with you a little bit more about my recent trip to Lisbon.
Apart from the one day tour we'd booked months previously with the British Historical Society of Portugal, husband and I didn't have any set plans.
However, enticed by our hotel receptionist, we signed up for another guided tour, this one to Sintra. This historic town was on my list of places to see, and so the opportunity to be taken there in a small group (there were eight of us, including the guide) was too good to miss.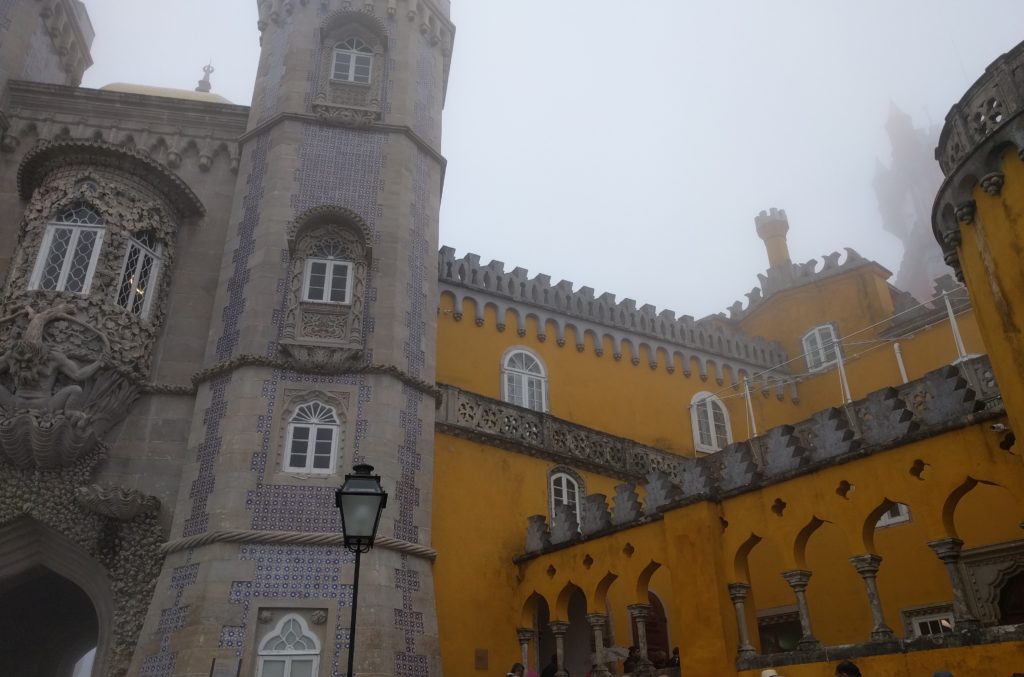 Setting off early after breakfast, we drove straight to the Palácio Nacional da Pena, with our guide, Jorge, pointing out places of interest on the way. It was misty when we arrived, as Sintra is situated high in the foothills of the Sintra mountains. In the past, it was a favourite spot for Portuguese royalty because of its lush greenery and cooler temperatures.
Despite the early start, we found long queues for entry to the palace. Luckily Jorge was able to sort things for us, and our group didn't have to spend too much time waiting. Once through the gates, it was quite a steep walk up to the palace itself, but there are small vehicles available for visitors who are unable to cope.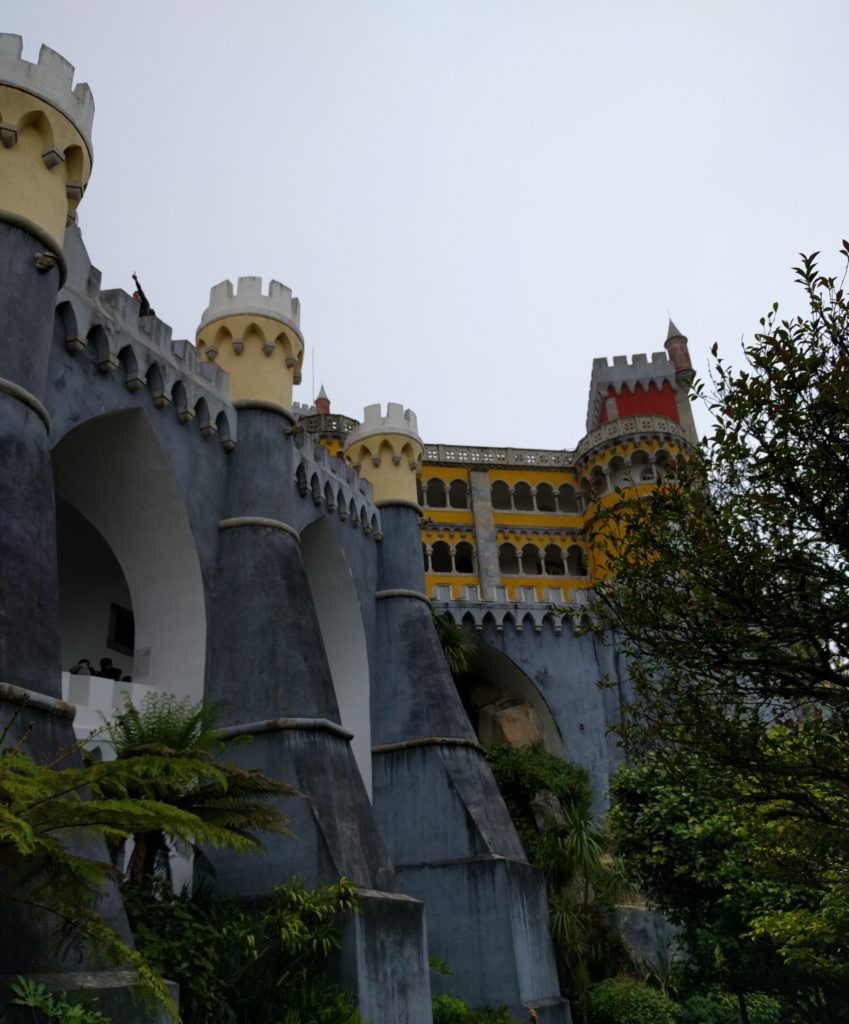 Inside, the palace was stunning. The interiors have been restored to how they would have appeared in 1910, shortly before revolution forced the monarchy to depart Portugal. Sadly, no photography is permitted inside the palace, so I only have exterior shots, which I hope nevertheless may give a flavour of the place.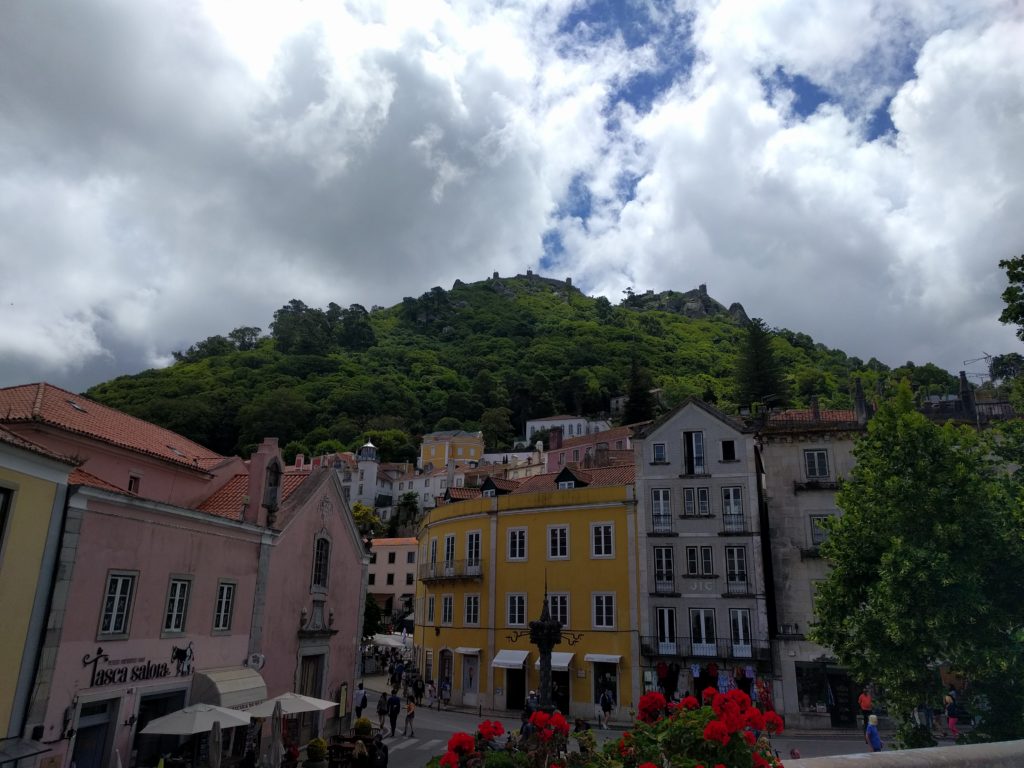 After our tour of the Pena Palace, we headed back down the hill to the centre of Sintra town. Here there are quaint cobbled streets filled with restaurants, cafés, and souvenir shops, and by this time they were all crowded with tourists. Left to our own devices, husband and I decided to stop for a coffee, and discovered the wonderful confection that is the travesseiro (pillow) – a puff pastry filled with a creamy egg and almond mixture. They were so good, we ate three of them between us.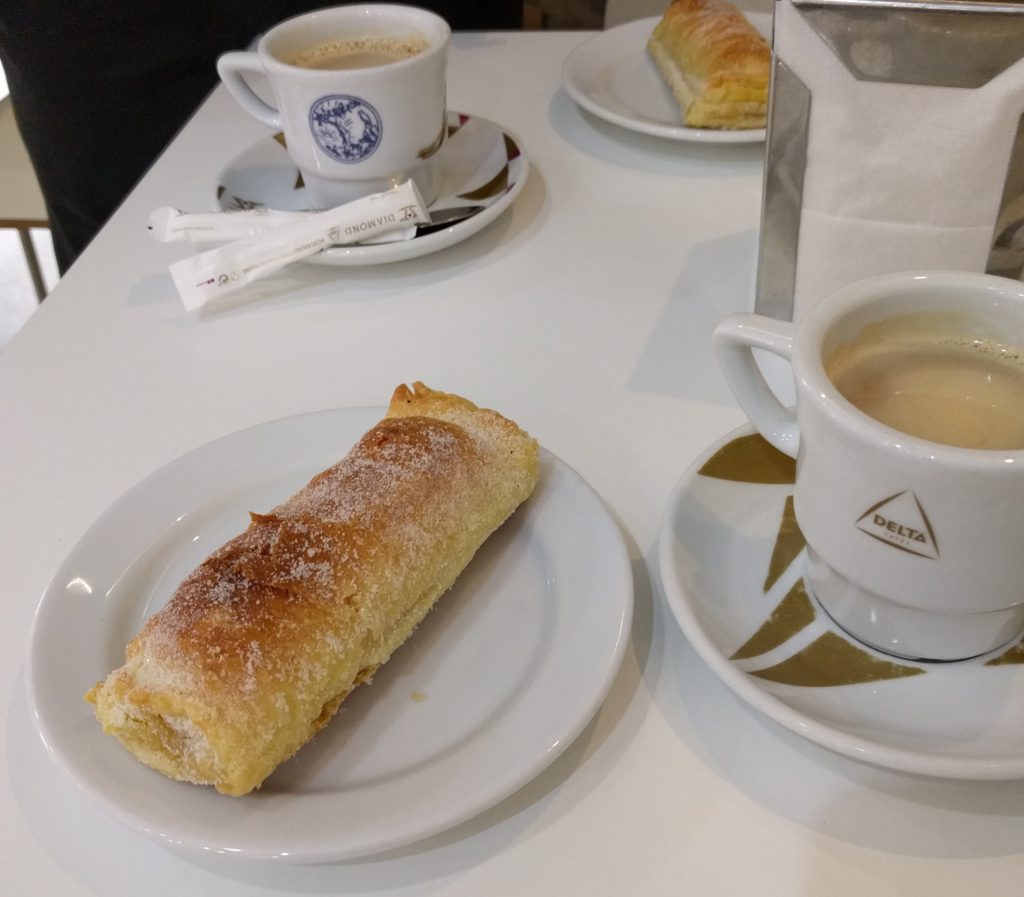 Another pleasant mouthful sold in many shops are the little chocolate cups filled with ginjinha (a sour cherry liqueur). At one euro each they are an inexpensive sweet treat.
The monument at Cabo da Roca

Next stop America!
From Sintra we drove to the coast, stopping briefly at Cabo da Roca, the westernmost point of Europe. It was full of tourists taking selfies. I think I must have photobombed a few.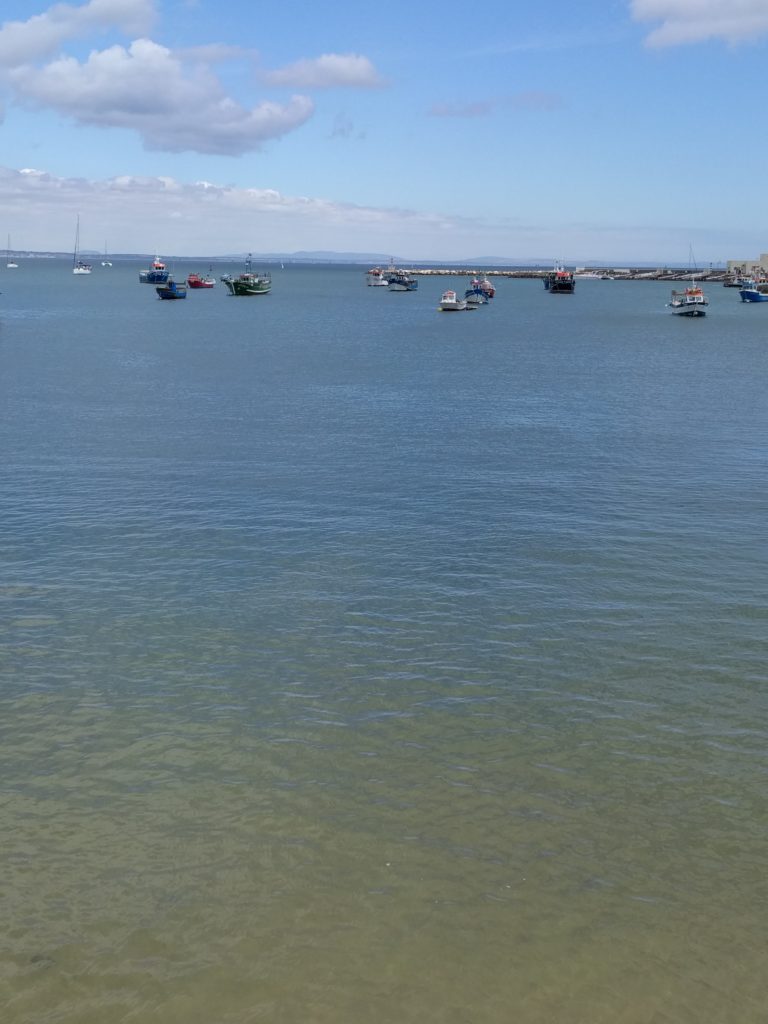 The final stop of our trip was Cascais, an upmarket seaside resort and fishing town. We only had time for a brief stroll, so after a quick foray through the shopping area, we spent most of our time exploring the waterfront and fishing harbour. The water there is beautifully clear, and it was fun spotting the fish gliding about in the water below the quayside.
Fishing pots on the quayside
From there it was a short ride along the scenic coast road back to Lisbon and our hotel.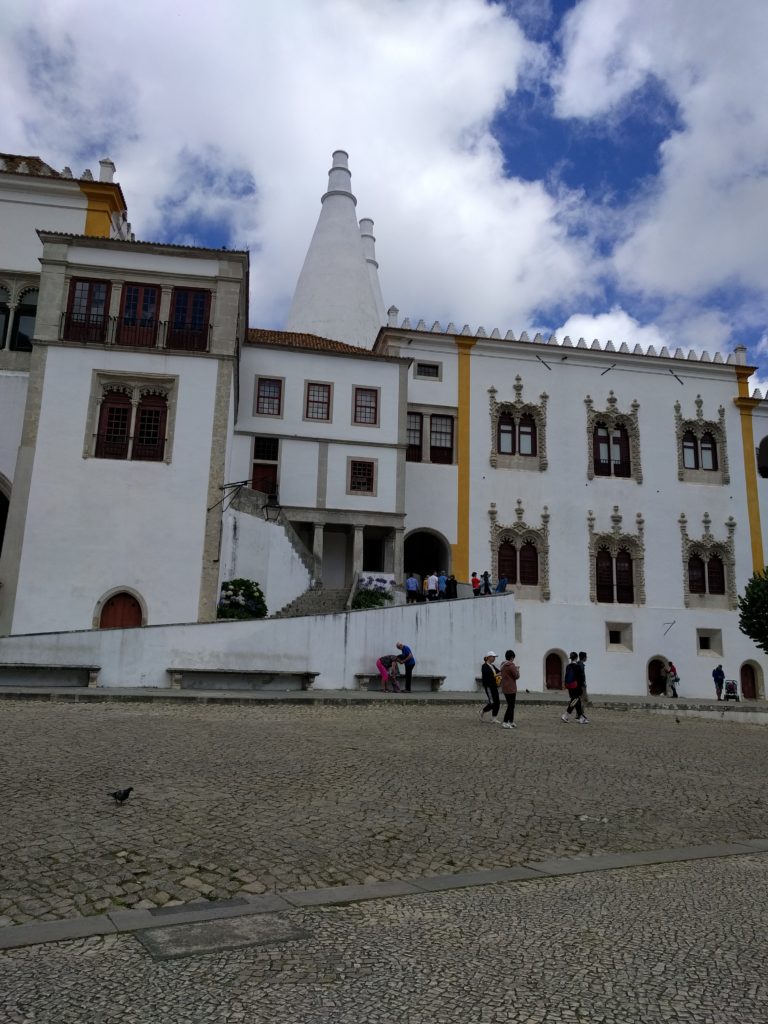 My take away thoughts on this day trip? It was useful for an overview of Sintra, and getting into the Palácio Nacional da Pena while it was relatively uncrowded was good. On a return trip I'd again set off early to beat the crowds, and head this time to the Palácio Nacional de Sintra, situated in the centre of the town.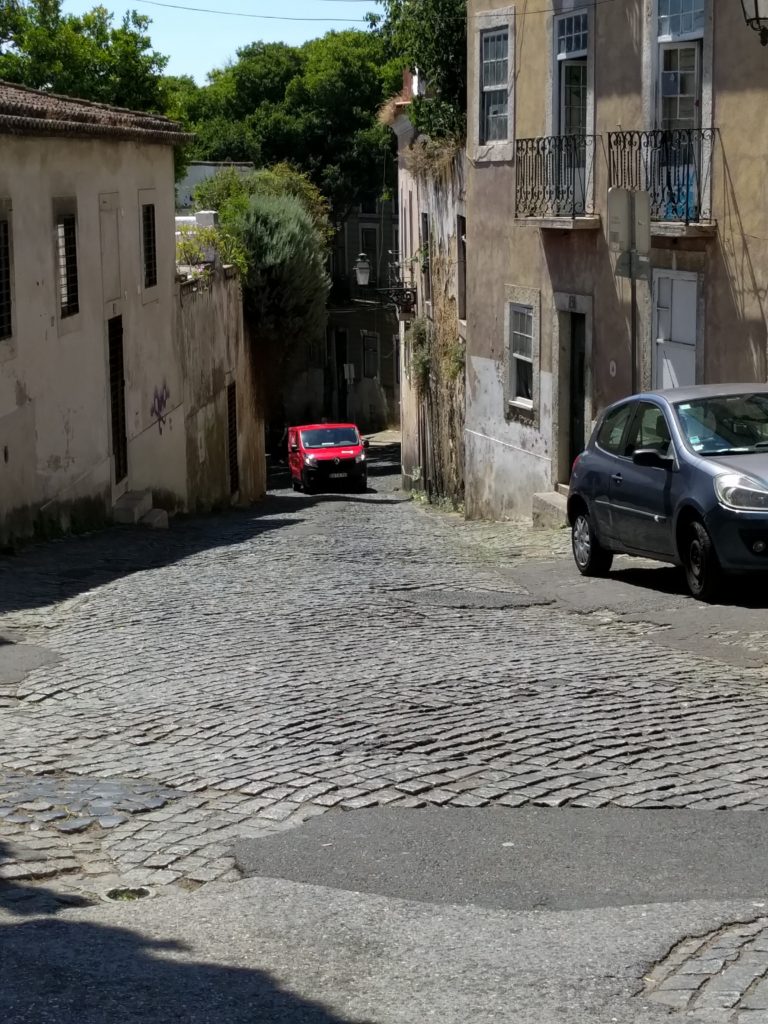 The rest of our short stay in Lisbon was unstructured, as we decided that exploring on foot, and using the local bus and tram network, were the best ways to get a feel for the place.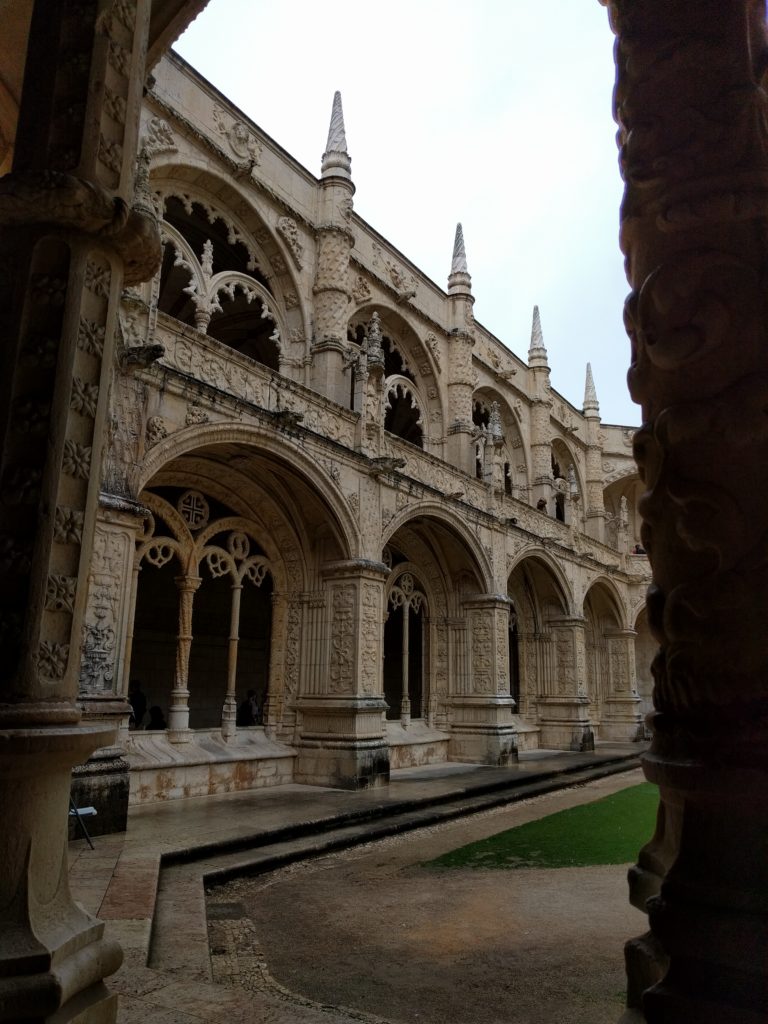 We visited the Jeronimos monastery (another very crowded tourist attraction with an overly complicated ticketing and queuing system), and the nearby National Coach Museum.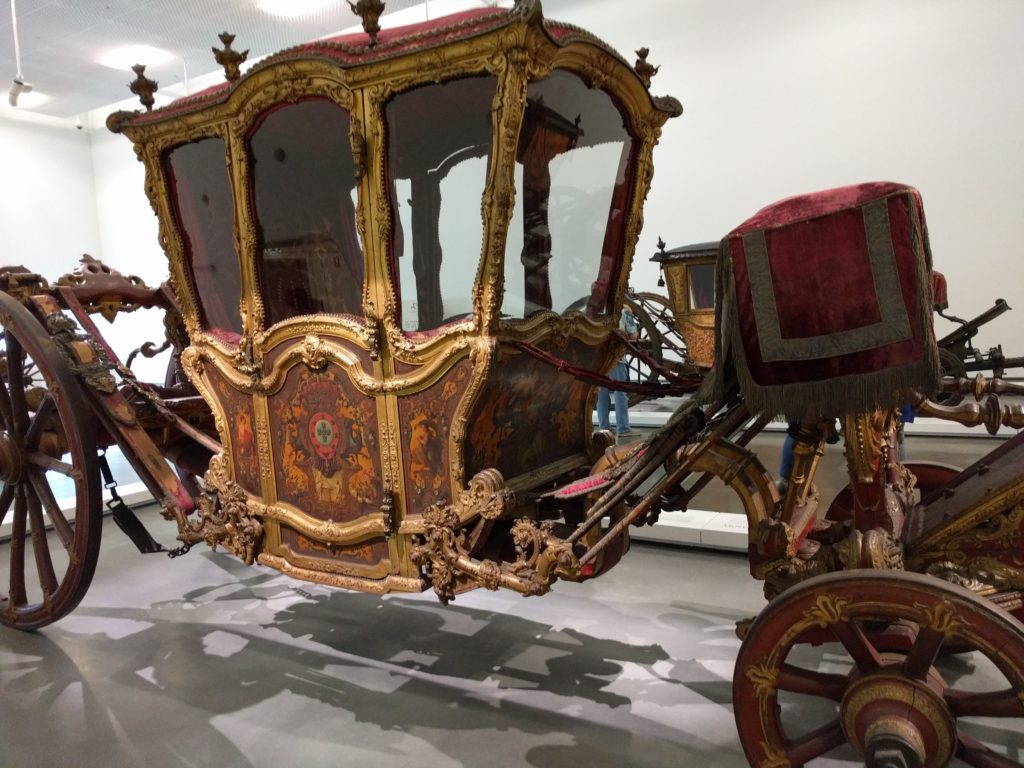 The latter I found very useful for my understanding of eighteenth and nineteenth century horse-drawn carriages. Both the monastery and the museum were situated some distance from the centre of Lisbon, so we took a tram there and came back on a river boat.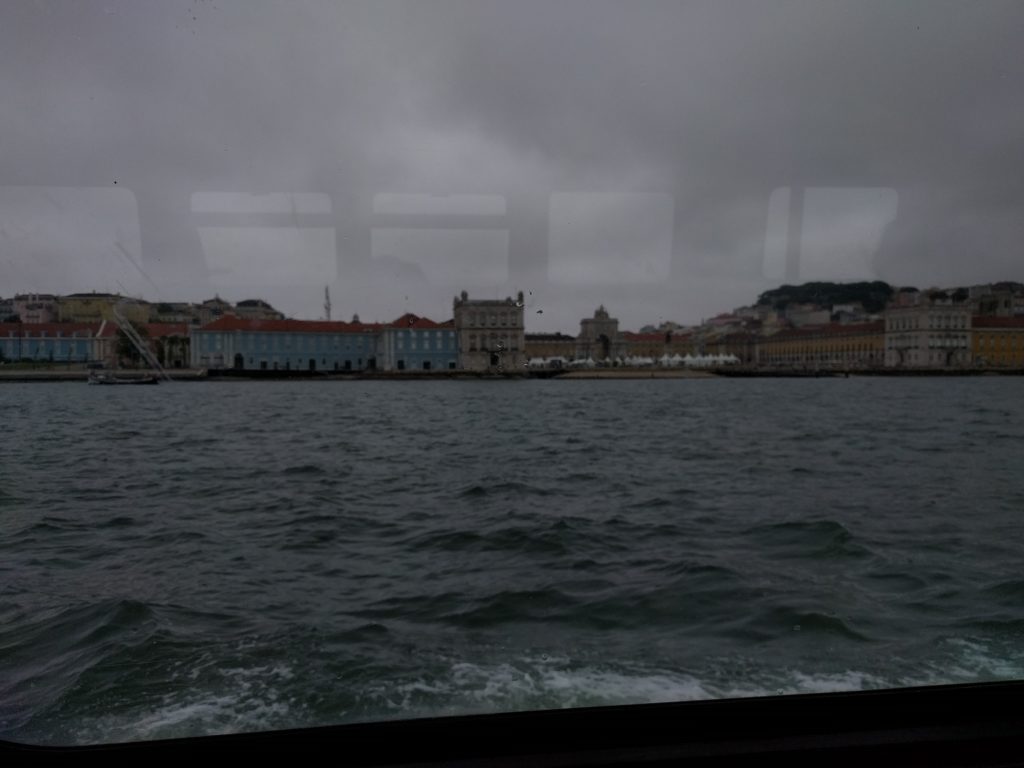 Unfortunately, it was a wet miserable day, so I didn't get the fabulous shots I'd been hoping for.
Cannon on the ramparts

View over the city from the Castelo de São Jorge
Another day we visited the Castelo de São Jorge (fantastic views over the city, but scary, vertigo-inducing ramparts) situated on Lisbon's highest hill.
Many houses in Lisbon have tiled facades

Going back down to the centre
We caught the tram up to the top, and after a couple of hours exploring the ruins, walked back down to the centre through the picturesque Alfama district.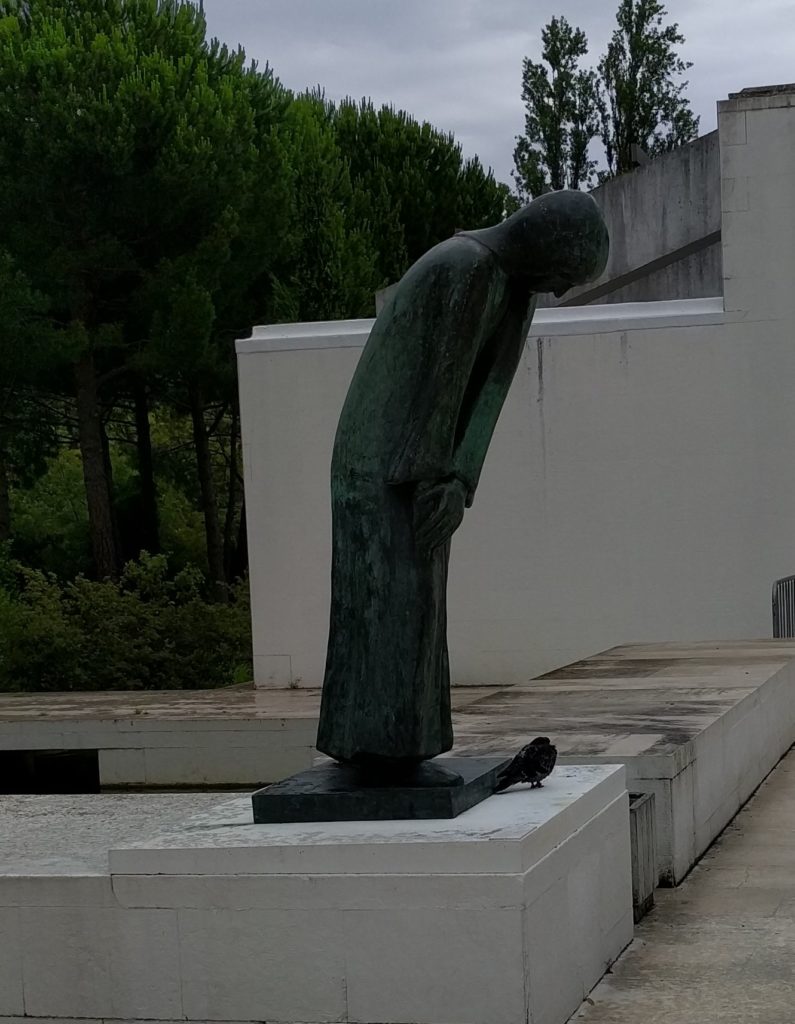 A place I'd recommend to anyone interested in art, is the Calouste Gulbenkian Museum. The Founder's Collection, recognised as one of the best private art collections in the world, is housed in one building, while the Modern Collection is in another, both set in beautiful landscaped gardens in an outer suburb of Lisbon. We opted to visit just the Founder's Collection and took the guided tour, which gave an excellent overview of the collection and an insight into the mind of the collector, Calouste Sarkis Gulbenkian. Paintings, sculptures, tapestries, illuminated manuscripts, rare printed books, ceramics, jewelry — if it was exquisite and perfectly crafted, Gulbenkian collected it. It's one place I'd definitely like to revisit. For more on this, see here.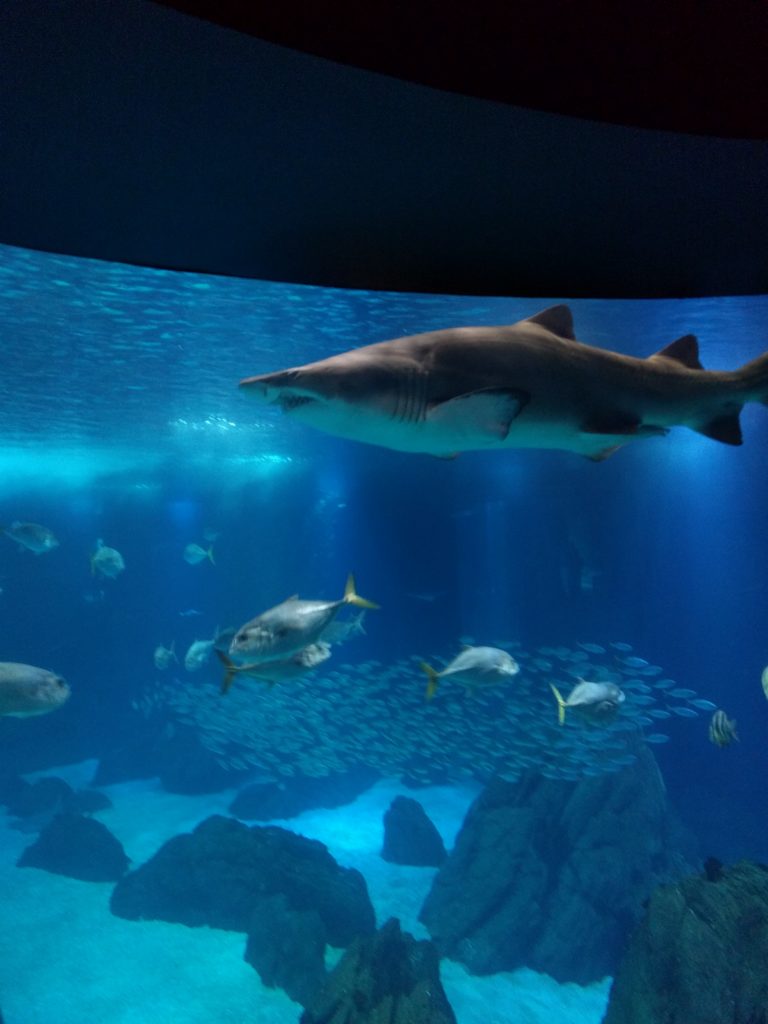 Finally, another memorable but totally different excursion was to the Oceanário de Lisboa. I don't think I've ever seen so many different fish living together in one enormous tank. It's a bit of a trek to get there (you will need to take the bus), but well worth it.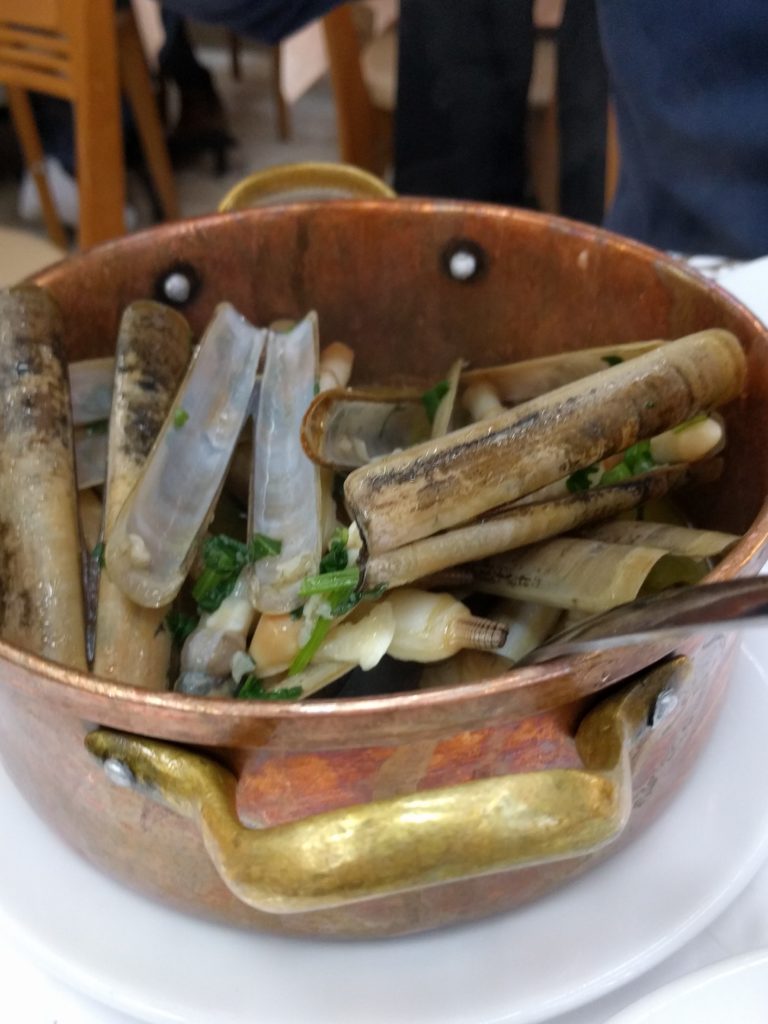 One standout feature of our stay in Lisbon was the food. As you might guess, food plays an important part in my life. Guided by the staff at our hotel, we found some fantastic restaurants that were patronised by locals, and that were not overpriced tourist traps. I had some of the nicest and inexpensive meals of my life in Lisbon. Being on the coast, fresh fish and seafood featured heavily, as well as fantastic steaks. The local wines were also excellent.
And then there were the cakes…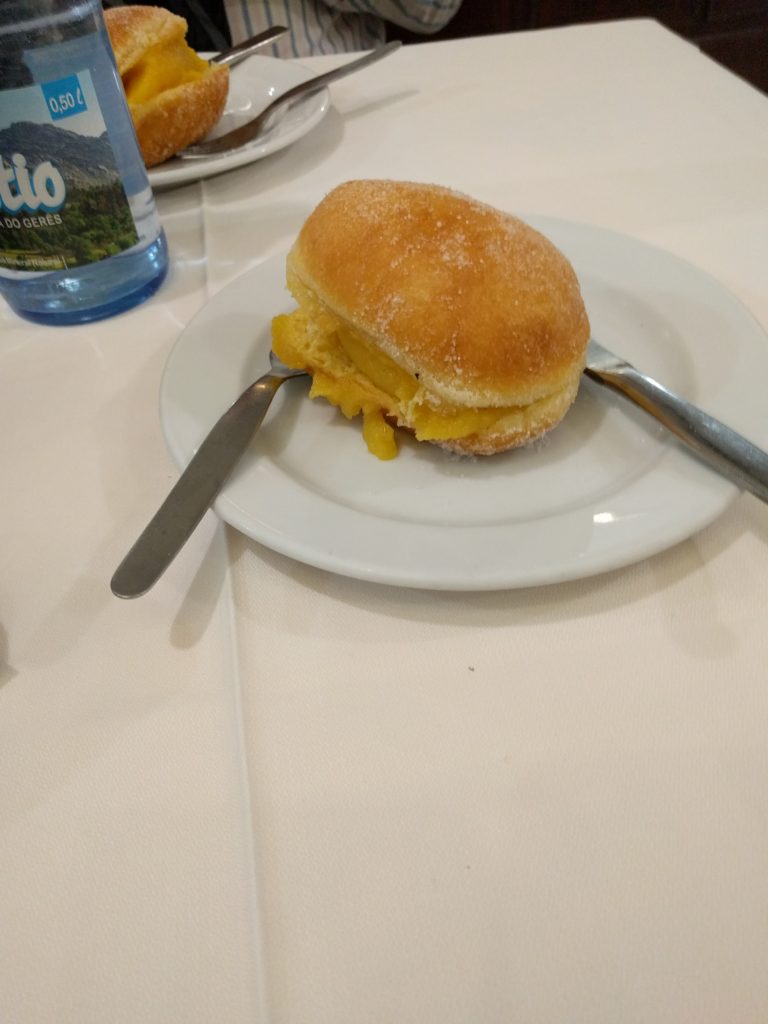 Walking around means it's nice to stop occasionally for coffee and something sweet, so that's what we did. Highlights were the previously mentioned Pirquita travesseiros in Sintra, a delicious Bola de Berlim ( a sort of doughnut with an egg custard filling) at a cafe in the centre of Lisbon, and a beautiful, fresh-from-the-oven Sonhos (a type of doughnut), at a small village café near Óbidos.
For anyone who likes cake, Portugal is something approaching cake heaven.
Well, that's about it for my trip to Lisbon. We visited many more places of interest, both religious and secular, but I won't bore you with all the details. If you think I might have missed something that I ought to have seen (or tasted), do let me know.