These last few weeks have mostly been spent on research for my next book.
The main location I have in mind is Falmouth in Cornwall. For those of you who don't know, Falmouth is a thriving seaside town near the western southernmost tip of England.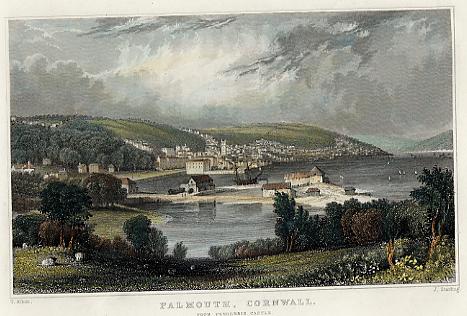 Falmouth didn't really exist as a town until the 17th century, when local landowner Sir John Killigrew petitioned King James I for approval of his building plans. The town grew and Sir Peter Killigrew, a descendent of Sir John, built a Custom House there, obtained a patent from the then Commonwealth Government for a weekly market and two fairs, as well as a ferry from Falmouth to Flushing. Finally, on August 20th 1660, a Charter was granted by the newly restored Charles II for Falmouth to be incorporated as a borough. Falmouth was definitely on the up.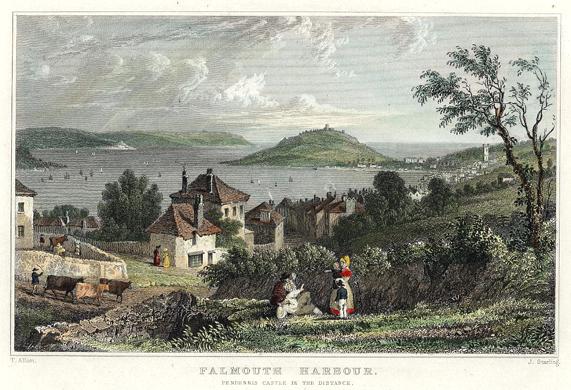 Conflict between the now Protestant England and Roman Catholic France in the 1680s meant that communications between Britain and the Iberian Peninsula and the Mediterranean became difficult, as land routes through France were closed. A solution had to be found. It was suggested that letters for these destinations should be sent by ship and that a regular service of these 'pacquet boats'* be set up for this purpose.
Falmouth was chosen as the terminus for this service.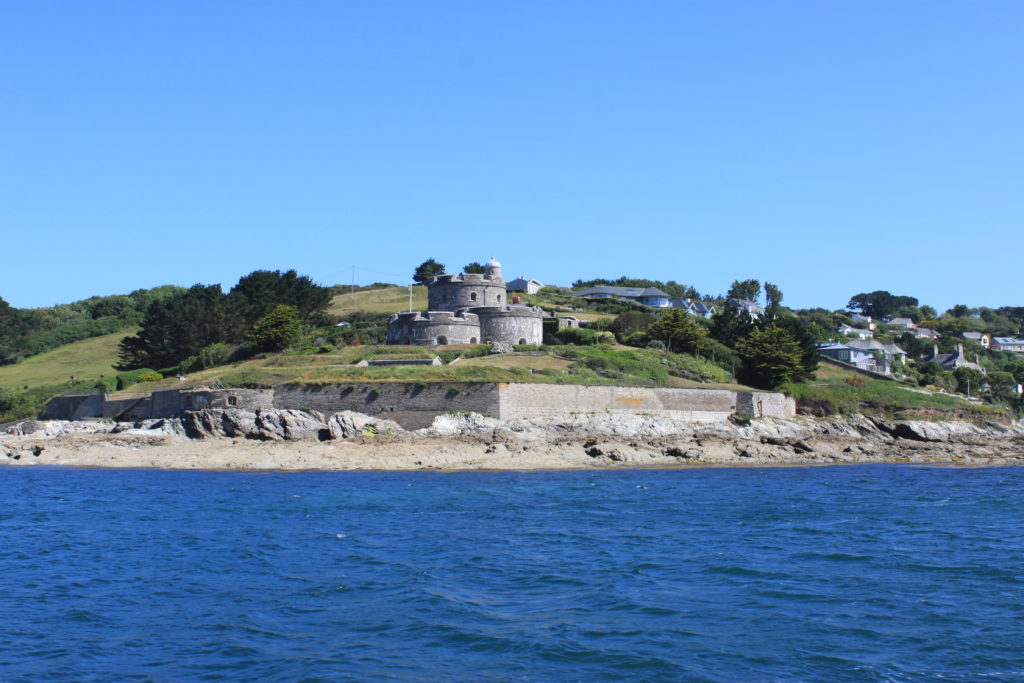 There were several excellent reasons for this, which together outweighed the inconvenience of Falmouth's distance from London along poor roads.
It was sufficiently far away from the French coast to make the packet boats safe from attack by privateers.
It's location meant it was a secure shelter from wind and weather.
It's entrance and waters were protected by the fortresses of Pendennis Castle and St Mawes, which would deter raids by enemy shipping.
With its deep estuary, there were numerous anchorages.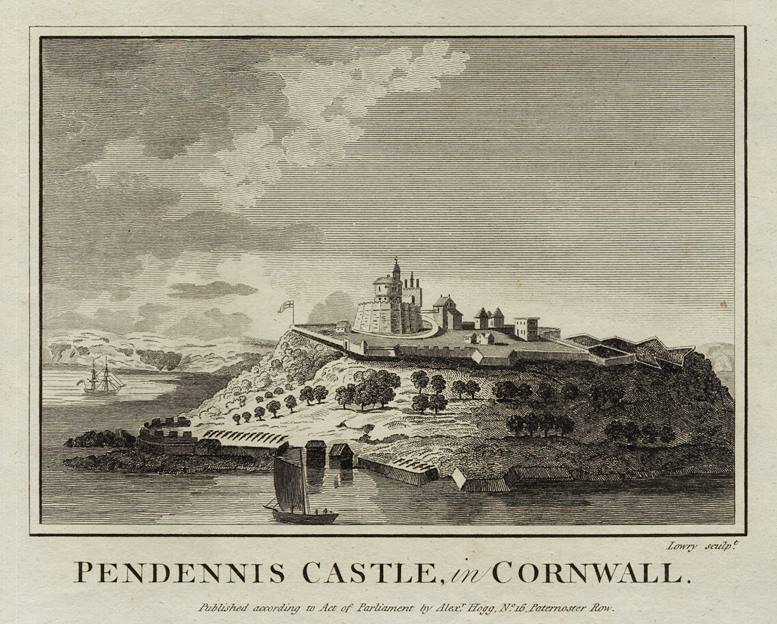 One of the first packet services was between Falmouth and the Groyne of Corunna, with the first two ships named Spanish Allyance and Spanish Expedition. By the 1830s, there were forty vessels sailing to Lisbon, Gibraltar, Malta, Corfu, Bermuda, Leeward Islands, Windward Islands, Mexico, Rio de Janeiro, and Buenos Aires.
From 1775 to 1815 Falmouth became quite a fashionable place thanks to the numerous passengers who stayed there, either on their way to, or returning from the many places that the packet boats called at.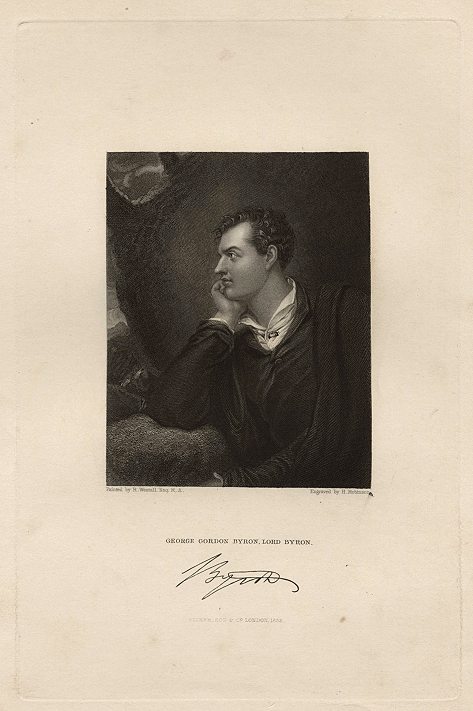 Lord Byron used a Falmouth packet to sail to Lisbon in 1809. He stayed in the town for over a week, lodging in rooms in Church Street, before sailing on July 2nd on a ship commanded by one Captain Kidd. He wrote to his friend Francis Hodgson on 25th June 1809 'The town of Falmouth, as you will partly conjecture, is no great ways from the sea. It is defended on the sea-side by tway castles, St Maws and Pendennis, extremely well calculated for annoying every body except an enemy.'
A guidebook of 1824 describes the town thus: 'Falmouth is now become a very important and populous sea-port town… The Harbour, which is considered one of the best in England, is so commodious and sheltered, that the most numerous fleet may therein ride in safety…. The town is built along the western shore of the harbour, the houses forming a street nearly half a mile in length. Owing to the improvements which have been made of late years, Falmouth has a very prepossessing appearance, and is now inhabited by many respectable families.'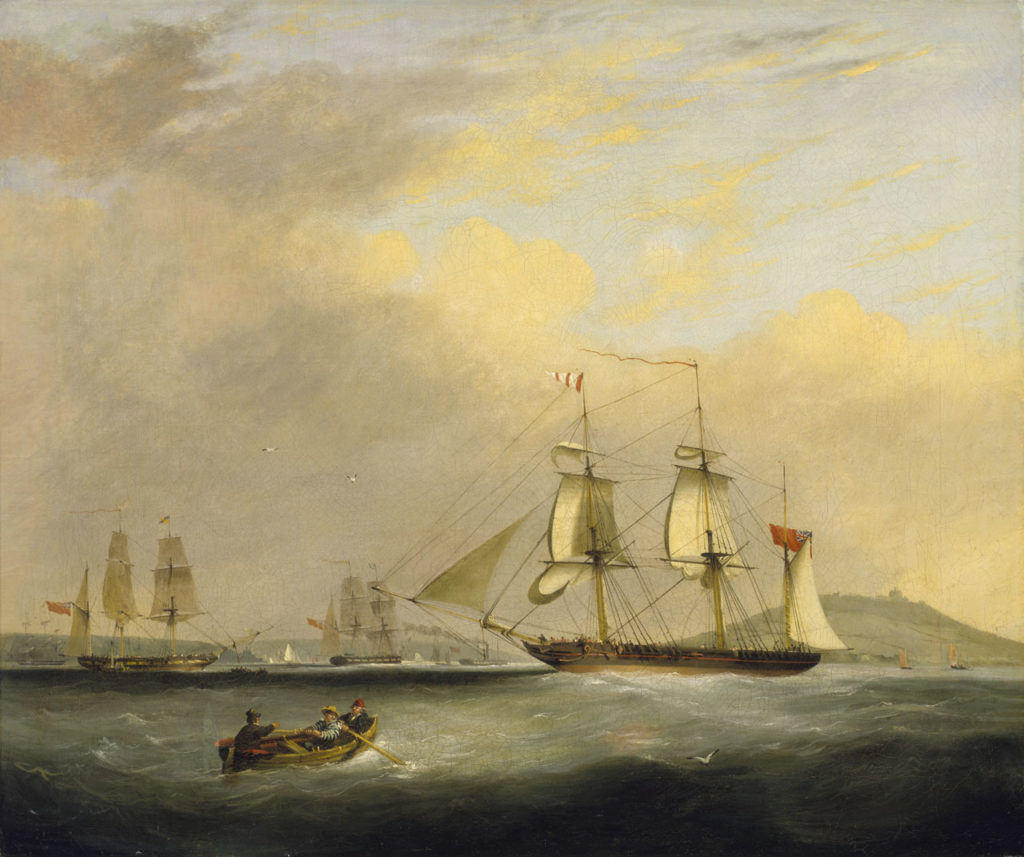 Because of the packet service, lots of ancillary services flourished in the town. From everything to do with the ships themselves like, sail-makers, chandlers, shipwrights, carpenters, etc, to those who supplied the ships for their journeys: butchers , poultry-men, ships bread and biscuit bakers, wine and spirit merchants. Because the packets also carried passengers, hotels, inns and similar hostelries found a place there too.
Today, the packets are long gone, finishing in 1851 after 150 years of service. But Falmouth is still a vibrant and elegant town, many of the houses built in the town's heyday still survive. I've visited a couple of times in the last few years and it is one of my favourite places.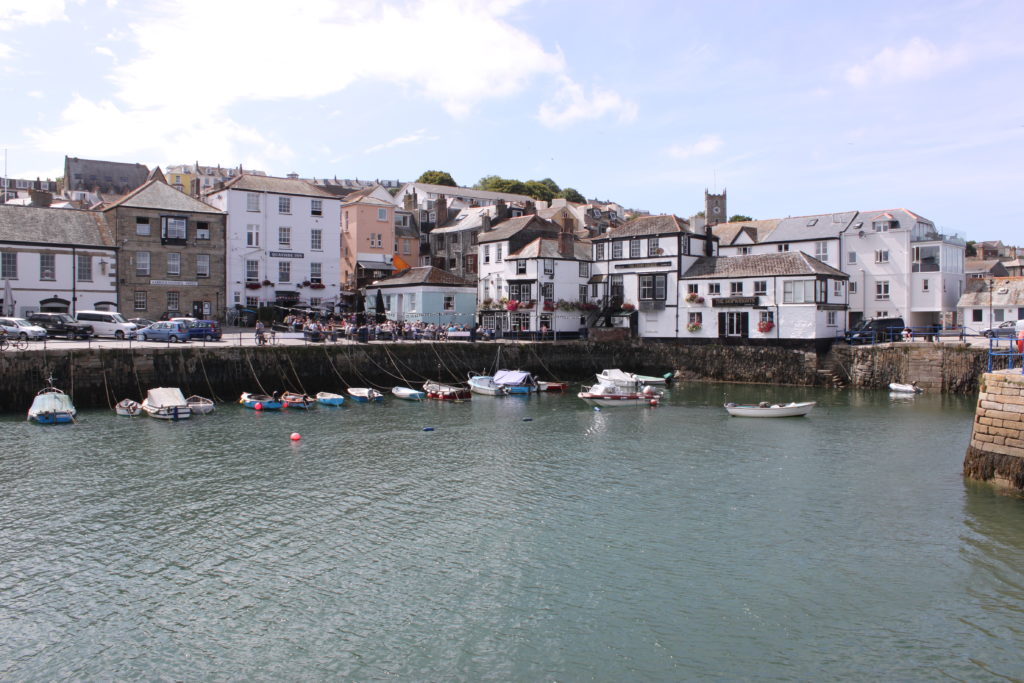 The Custom House Quay is still there, a reminder of all the comings and goings of this busy port.
Falmouth Docks, on the northern shore of Pendennis Point, still play an important role in the commercial life of the town, and walking up towards Pendennis Castle one gets a good view over the docks and the estuary.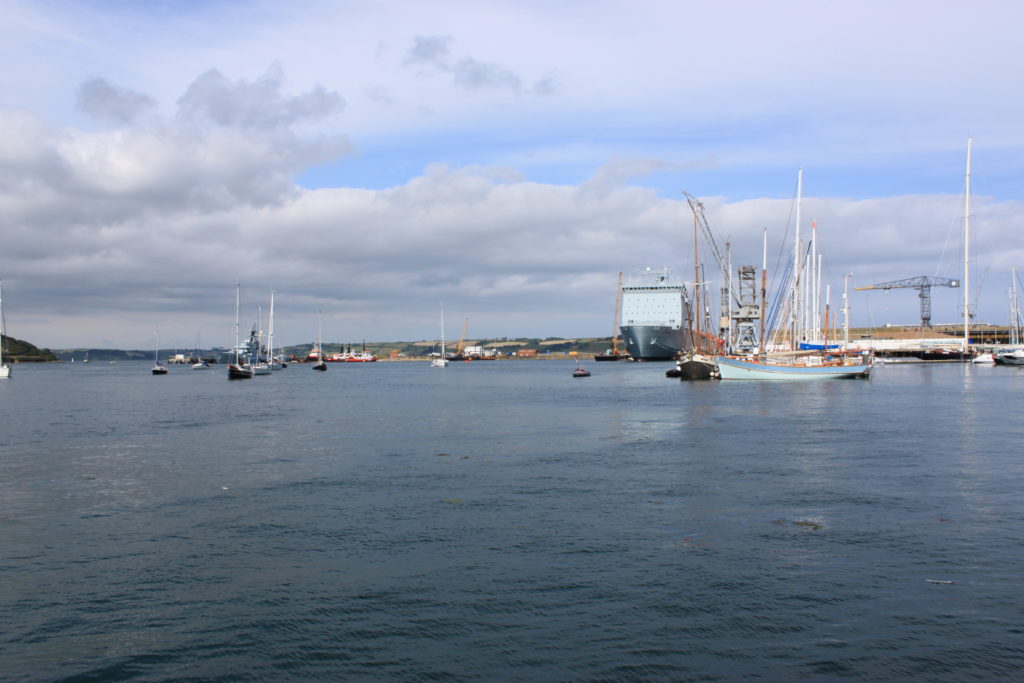 On my last trip I was lucky to see a large cruise liner in the harbour. I'm sure today's passengers on these huge craft have no idea that the origins of cruise ships were the little packet ships that set off here all those years ago.
The main source of income today in Falmouth is the tourist trade. In summer the quaint streets are crowded with holiday-makers; the lovely beaches and coves of the Cornish coast are a magnet for people who enjoy the seaside, while the harbour is home to 'yachties' and those who like messing about in boats.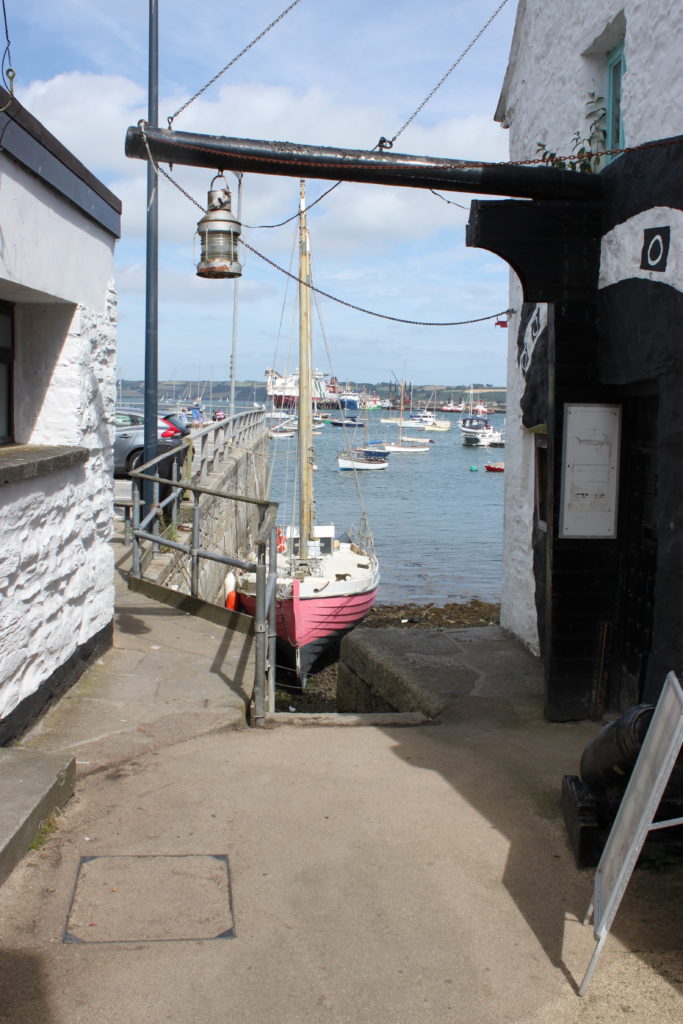 Though I'm not a keen sailor, I can recommend taking the ferry across to St Mawes and back, or how about a trip up river to the picturesque town of Truro? Even a shopping trip to the supermarket at Ponsharden, a commercial area on the outskirts of Falmouth, turned into an adventure for me — not only is there a bus service from here back into town, but also a boat service. You can guess which option I chose.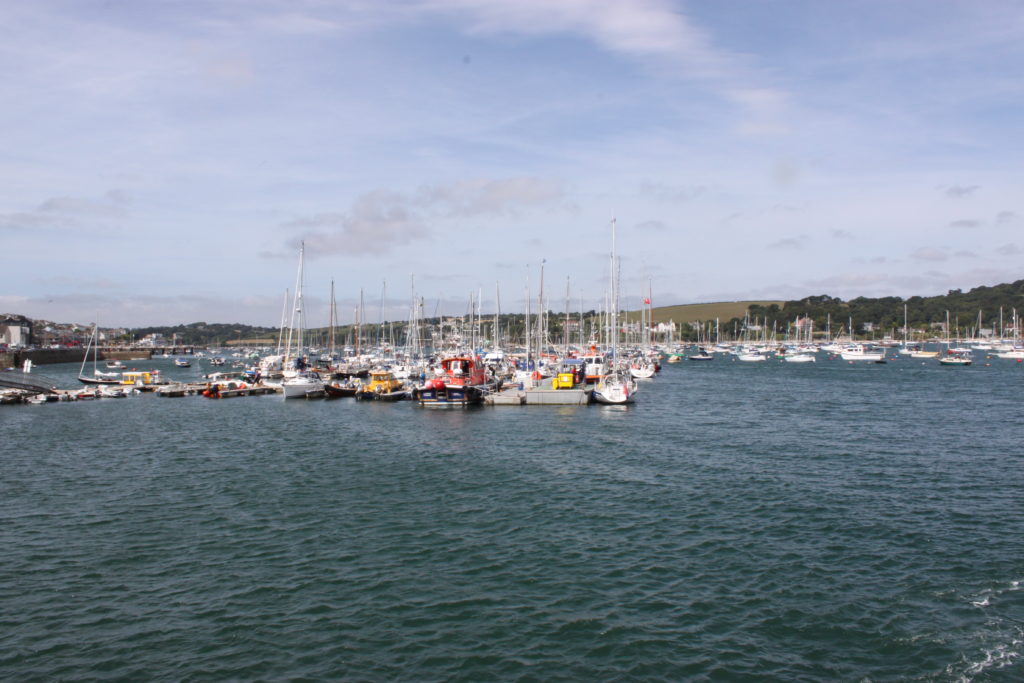 Well, I hope you've enjoyed my brief description and history of Falmouth. In a future post I intend to share with you some more of my discoveries about the Falmouth Packets.
Have you ever visited Falmouth? What did you think, and have you got any recommendations for my next trip there?
The word 'pacquet' is from the French and alludes to the way in which dispatches were packed and sealed. Eventually the word became 'packet' and was associated with the actual service used for sending the dispatches, and then the vessels themselves.
Sources
Old Falmouth, Susan E. Gay, Headley Brothers, London, 1903
Excursions in the County of Cornwall, F.W.L. Stockdale, London, 1824 (reprint D. Bradford Barton, Truro, 1972)
Life in Cornwall in the Early Nineteenth Century, R.M. Barton,Truro 1970
The Falmouth Packets 1689-1851, Tony Pawlyn, Truro, 2003