Today, I thought I'd take another look at Buchan's Domestic Medicine. In my edition, there is a section that discusses mineral waters.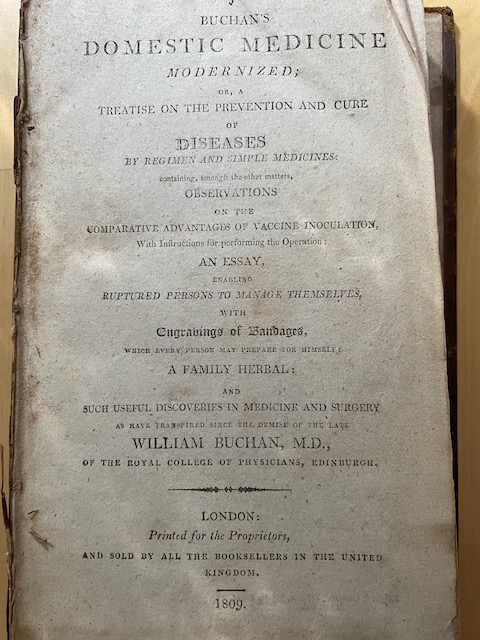 Now, for anyone who is a fan of Regency novels there is often mention of 'taking the waters', and this was usually undertaken in Bath, a city still known today for its hot springs. It is unsurprising therefore that Bath's waters are the first ones mentioned in Domestic Medicine.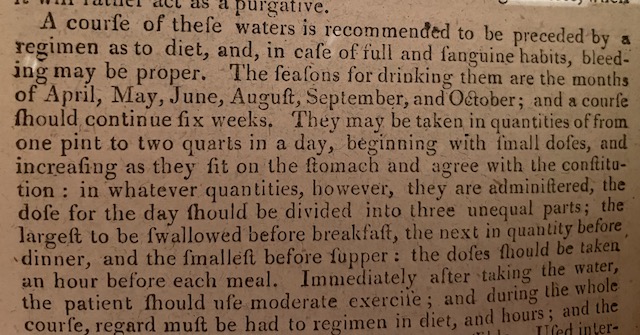 These waters were said to be of a higher temperature than any other natural springs in England. When taken, the waters 'had a tendency to raise and rather accelerate the pulse, increasing the heat of the body, and promoting its secretions'.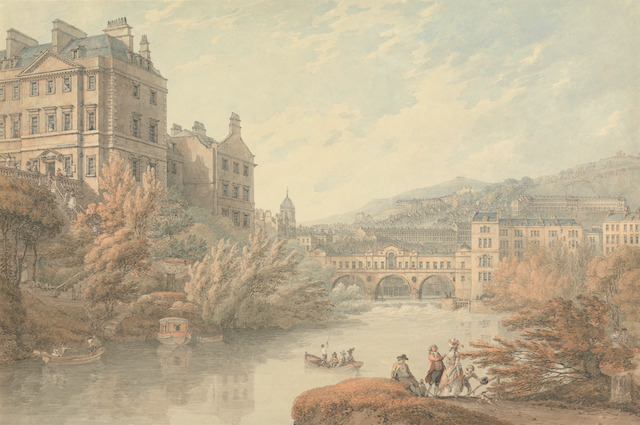 The recommended months for drinking Bath's waters were April, May, June, August, September, and October, according to Buchan, and six weeks was the time required for a person to benefit – usually by drinking from one pint up to two quarts per day. Drinking the water was done in conjunction with moderate exercise and keeping one's mind 'in as tranquil a state as possible'. It sounds like quite a pleasant treatment. Who wouldn't enjoy a six week holiday?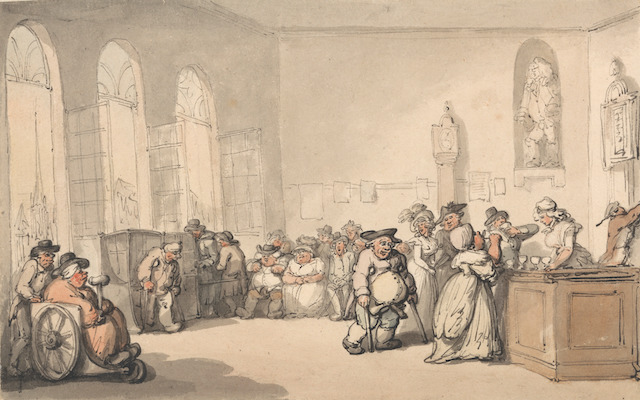 Bathing in the waters was also said to be beneficial in cases of paralysis, sprains, and diseases of the skin, as well as gout and rheumatism. Mud made from the waters was also recommended to make poultices for treating swellings, running ulcers, and 'cutaneous and leprous eruptions'.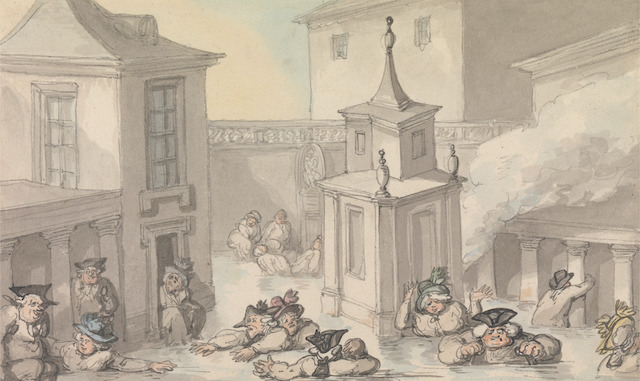 I don't think I'd fancy sharing a communal bath with individuals suffering from some of these conditions.
Bagnigge Wells near London was another much frequented place whose waters were recommended for their purgative qualities. It was said to be good for treating heartburn, vertigo, 'and pains of the head'. Buchan prescribes it for 'pimples, heats, and other eruptions of the face', which makes me think it might have been the go-to place for Georgian teenagers.
Drinking these waters was also said to cure worms 'these troublesome guests in the intestines' – something that was far more prevalent then than it is today, thanks to food hygiene rules.
Barrowdale (now known as Borrowdale), near Keswick in the Lake District is another watering place mentioned by Buchan. He describes the water there as being very like sea water; taken internally, it was recommended for leprosy and chronic obstructions (constipation) and 'clearing the blood of acrimonious humours' and diseases of the skin. Today sadly, there is not much evidence in Borrowdale of this once well-known therapeutic water treatment.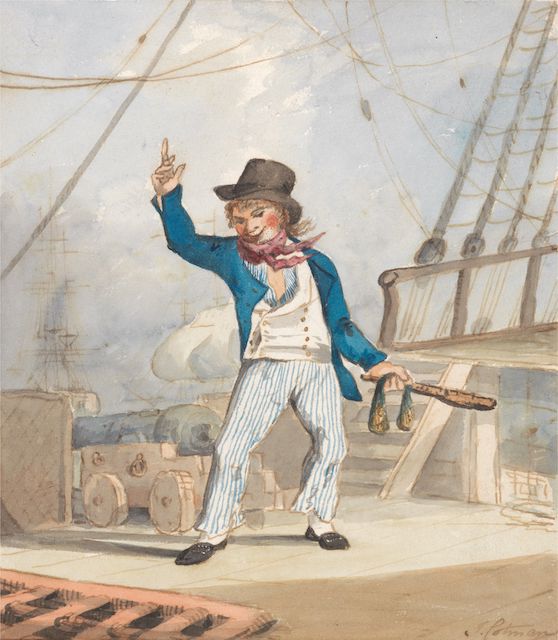 Bristol Hotwells is next on Buchan's list. This district, not far from the centre of Bristol, took its name from the hot springs that rose there and is still known as Hotwells today. According to Buchan, the healing powers of the spring waters were discovered by seamen who found it to be useful in 'curing the itch and healing old sores'.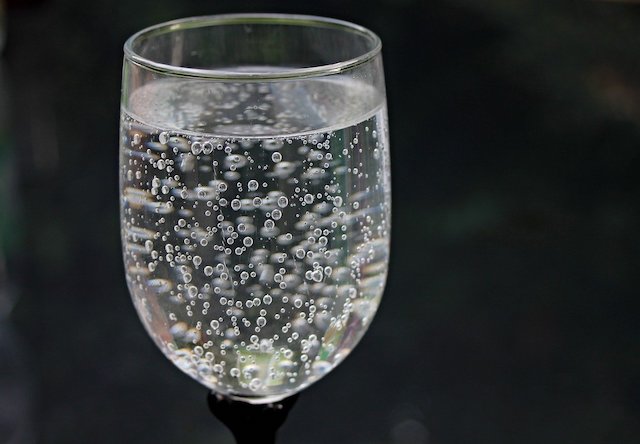 Colourless and odourless, but filled with bubbles of air and 'agreeable to the taste' it was drunk at meal times either on its own or mixed with wine. Spritzer, anyone?
Hotwell's water was regarded as particularly beneficial for disorders of the alimentary canal, such as indigestion or loss of appetite, as well as being recommended as a treatment for diabetes, lung disorders, internal haemorrages, and menstrual problems. The hottest months of the year were apparently the best time to take these waters.
Other spa towns mentioned in Domestic Medicine are the well-known towns of Cheltenham, Harrogate, Buxton, Malvern, Matlock, Tunbridge Wells, and Scarborough. There are also places listed that I'd never heard of in relation to water cures, such as Hampstead, Islington, Nevilholt, Pancras, Somersham, Tilbury, and Witham.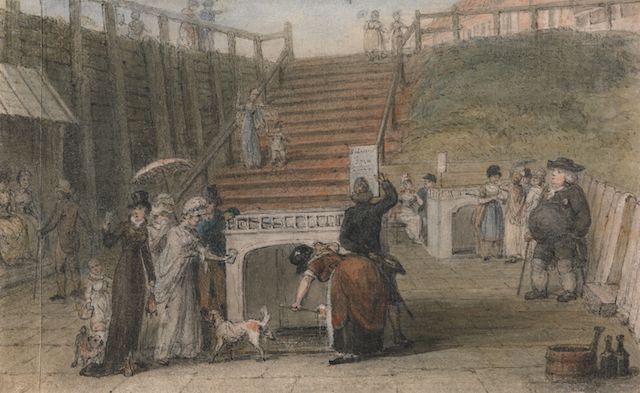 I was particularly pleased to see that the waters at Scarborough were said to 'give the patient unusual gaiety of spirits' – something that I think many could do with in these challenging times. Alas, public consumption of these spring waters ended in the 1960s, and thanks to current health and safety legislation, access to it is now prohibited.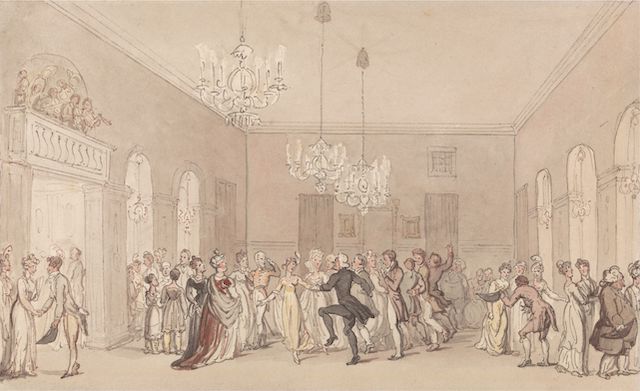 Buchan's final advice on taking the waters is that 'temperance, light suppers, early rising; moderate exercise in the open air…. agreeable company and rational amusements; all concur in promoting the salutary operation of these medicinal treasures.'
It was probably by following this sound advice rather than the dubious health-giving properties of the spa waters that patients achieved the good health they were seeking.
Have you visited any spa towns? Did you take the waters and what did you think of them?
Images
Thomas Hearne, 1744–1817, British, View of Bath from Spring Gardens, 1790, Watercolor, pen and gray ink, and graphite on medium, slightly textured, cream wove paper, Yale Center for British Art, Paul Mellon Collection
Thomas Rowlandson, 1756–1827, British, Comforts of Bath: The Pump Room, 1798, Watercolor and graphite with pen and black ink on medium, slightly textured, cream wove paper, Yale Center for British Art, Paul Mellon Collection
Thomas Rowlandson, 1756–1827, British, Comforts of Bath: The Bath, 1798, Watercolor, with pen, in gray ink, black ink, and graphite on moderately thick, slightly textured, blued white, wove paper, Yale Center for British Art, Paul Mellon Collection
John Sell Cotman, 1782–1842, British, after Robert Dighton, 1752–1814, British, Caricature of a Sailor (One of a Set of Three), ca. 1799, Watercolor and gouache on medium smooth bright white wove paper, Yale Center for British Art, Paul Mellon Collection, B1975.4.180
James Green, 1771–1834, British, Figures taking the Waters at the Spa at Scarborough, undated, Graphite, watercolor, pen and gray ink on slightly textured, moderately thick, cream wove paper, Yale Center for British Art, Paul Mellon Collection, B1981.25.2632
Thomas Rowlandson, 1756–1827, British, A Ball at Scarborough, ca. 1820, Watercolor, with pen, in red ink, brown ink, black ink, gray ink, and graphite on moderately thick, slightly textured, blued white, wove paper, Yale Center for British Art, Paul Mellon Collection, B2001.2.1155